Illustrator shares secrets to success
By Chris Allison
Copy Editor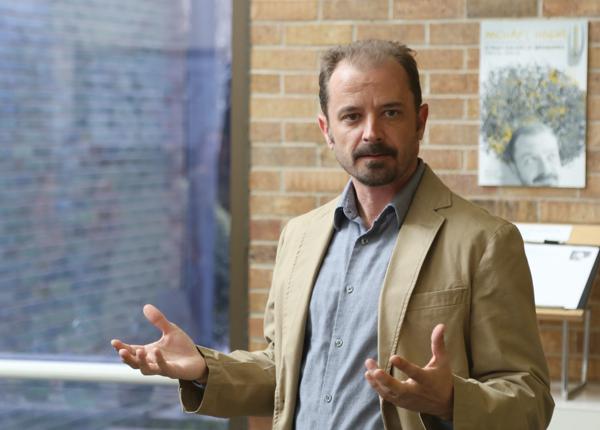 More than 50 works of brightly colored art covered the walls of Brookhaven College's Atrium Gallery from March 25 to April 26.
Pieces ranged the spectrum of artistic techniques. Newspaper illustrations and paintings done on scrap pieces of wood captivated students and staff alike during the March 28 reception.
The display was the result of a meeting between Dallas Morning News Graphic Editor Michael Hogue and Brookhaven Visual Communication Professor Ray-Mel Cornelius. Their friendship began with a fortuitous choice of clothing, a chance encounter and the ensuing conversation between them.
Cornelius first met Hogue in the late 1990s at a grocery store. Noticing Cornelius' T-shirt, which read "Dallas Society of Illustrators," Hogue said he was also an illustrator and was new to Dallas.
The two went on to discuss the organization (now defunct) and business in the area. The meeting began a friendship and working relationship that has endured to the present. Hogue has commissioned illustrations from Cornelius to be published in The Dallas Morning News. Hogue always wanted to be an artist. His grandmother was constantly around to provide blank paper and words of encouragement. He worked for a greeting card company while in college and later had a rocky start once he moved to Dallas and began freelancing.
His ups and downs have not kept him from encouraging others, however. "If you have a strong enough passion for it and you're willing to work really hard, you can definitely make a living doing it," Hogue said. "As far as being an illustrator's concerned, if you're not completely into it, do something else," Cornelius said, concluding Hogue's point.
Despite his reluctance to take a job in a corporate setting, Hogue accepted a job with The Dallas Morning News about 10 years ago, due in large part to his wife's urging him to try it out.
Hogue had struggled as a freelancer and found the newspaper job to be more liberating than expected. Working for a newspaper allowed him to use different artistic styles and techniques. "Freelancers tend to get pigeonholed into a particular style," he said.
Hogue's work displayed in the Atrium Gallery made his point, with various types of media including pen and ink, digital, acrylic, watercolor, Prismacolor, silkscreen and collage.
"Students need to be exposed to the work of professionals who are making a mark in the industry the students are trying to enter," Cornelius said. "They need to know not only is it possible to succeed in this industry, but also the level and quality of work that will be expected of them."
Brookhaven students could not have a better example than Hogue. He has received more than 50 international awards for his illustrations and a wealth of exposure due to his position as a graphic editor with The Dallas Morning News.
"As someone who is not only very accomplished, but also very enthusiastic about the visual communications field, he's a perfect example of the level of professional practitioner we want to bring into the Atrium Gallery," Cornelius said. Hogue's passion for his work once led to cancelling a trip to see one of his favorite musicians, Willie Nelson, in concert to work on an ad campaign for Toyota.
Hogue also tempered his expertise with some valuable advice for future illustrators.
"The most important aspect of anything is having mutual respect with people," he said. "Human nature comes into play in every business, so get along."