Dove soap ad lathers up women's image
By Kathryn DeBruler
Staff Writer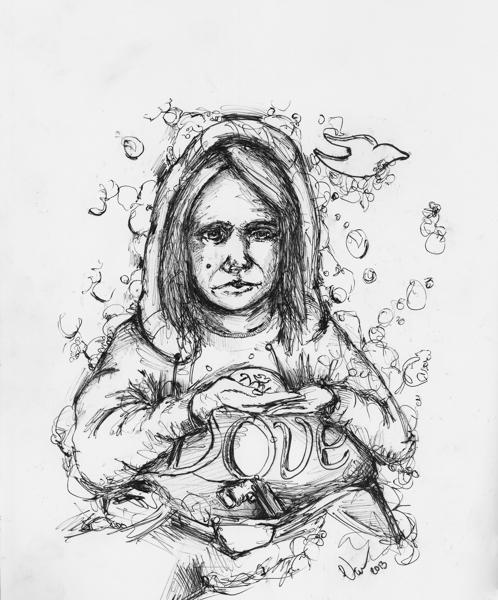 There once was a time when soap ads featured soap, steam billowing out from beneath closed doors and generically attractive people lathering their hair into peaks like beat- en egg whites. There once was a time when companies were honest about wanting us to buy shampoo and when consumers did so because of "new and improved formulas." In case consumers haven't noticed, those days are over.
It's not enough to sell a product anymore. Now companies have to sell self-actualization. I don't know how Dove got clarity and perspective to fit into its bottles of body wash, but apparently, it did. According to its advertisement released in April, "Real Beauty Sketches," – the latest in a series titled Campaign for Real Beauty – Dove provides a self-esteem boost right alongside the boost your hair is about to get from that cucumber-melon conditioner.
None of this is actually said, of course, but the implications are there – the subtext being "buy this, you'll be a better person." In case you haven't seen the ad I am referring to, here's a synopsis:
While oddly celestial back- ground music begins its inevitable swell, the camera pans to a man who is seated alone in a sun-drenched, semi-abandoned loft. "I'm a forensic artist," he says.  Ok, not exactly how I'd start a soap ad, but then again I'm not Ogilvy and Mather, one of the most successful ad agencies in the U.S.
The next voice comes from a middle-aged woman, who says, "I showed up to a place I'd never been."  The place she's referring to is the abandoned loft with the forensic artist – seems legit. Then a different woman says, "We couldn't see them. They couldn't see us."
Whoa, now – Dove, are you going to shed light on the spectrum of human emotion like you promised? It seems like the commercial is about to turn into some kind of weirdo séance involving a goat. There's a woman talking about her chin, about how it kind of protrudes, especially when she smiles. Phew. Looks like everything's going to be okay, folks. No goats here, just a bunch of upper-class people, middle-aged, mostly white, and mostly women, complaining about their looks.
But not just any old complaining – complaining with a purpose. The premise of the ad is to have unsuspecting women (who coincidentally appear coiffed and camera- ready) sit down with the forensic artist, who can hear them but not see them, and describe their facial features to him.
A few minutes and a lot of self-loathing later, the sketch is done. Then, a new person is ushered in who has supposedly become acquainted with the previous participant. They then describe the person, albeit in a much kinder fashion.  Finally, the two portraits are unveiled side by side, with the self-loather's ugly version on the left and the acquaintance's prettier, more realistic version on the right. Cue the dawning of self-realization and the fake crying.
I understand Dove is trying to convey the message that people are their own worst critics. I've got something to tell Dove: that is not news. I generally consider myself fairly knowledgeable about women, because I am one. I know what it's like to look in the mirror, see imperfections and fixate on them.
There's no mention in this ad that women don't need to be physically beautiful – that Victoria's Secret already has all the models it needs or that there are more important things in life than good looks. Why? Because this ad isn't selling intelligence, creativity, independence, courage or quirk. This ad is selling soap to make your skin smoother, to make your legs look better, to make you look younger, to make you feel more like what other people already see – all under the guise of promoting real beauty.
I'm all for people feeling better about themselves. The only problem is, this ad doesn't make people feel better – it makes its target audience feel better. Who is that audience? Attractive women. Dove, you don't get a pat on the back for incorporating diversity into your ads when your older women are former models, your overweight women are more attractive than the majority of their slimmer counterparts, and your women of color and men get spliced in just long enough that the American Civil Liberties Union doesn't start a campaign called "Dove: White Is Not Right."
While Dove theoretically promotes a message of self-acceptance, this ad only features those who deviate from what is commonly accepted as beautiful by the slightest of margins. Where are the women who look like the "ugly" portraits? They exist. And then they're going out and buying Dove products because they want to support a company that supports women. Wake up, ladies. The only thing that Dove supports is women's money.
As of press date, this ad was viewed approximately 45 million times on YouTube. The comment feed reflects over- whelming support: "Thumbs up if you totally cried watching this … so inspirational." You know what's really inspirational? Ogilvy and Mather. These companies have somehow managed to inspire millions of people (the majority of whom are women) to view this video, to share it and to rally for it, all while delivering a message that is inherently counterproductive and patronizing.
The ad ends with lots of lens flare as one of the featured women is embraced by her cute, denim-jacket-clad boyfriend while another woman says: "I should be more grateful of my natural beauty. It impacts the choices in the friends we make, the jobs we apply for, how we treat our children. It impacts everything. It couldn't be more critical to our happiness."
I didn't realize that I'd get a Brooklyn romance, friends, career and a happy life out of the deal. That's so much better than a new and improved formula. Forget what I said. I've learned my lesson about being a real woman. Thanks Dove.