BHC Yoga club broadens minds
By Clayton Rushing
Contributing Writer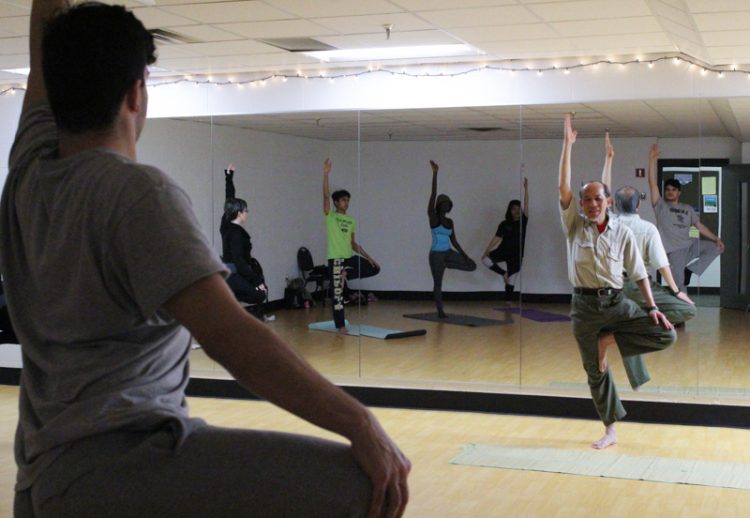 Students have an opportunity to free their minds and bodies from the onslaught of heavy homework and stressful deadlines by practicing yoga on campus. The Yoga Meditation Club meets from 4:30-5:30 p.m. every Wednesday in Room T109. The club is open to all students, staff and faculty to help manage stress.
Dada Advayananda, a Buddhist monk, and Courtney Hallman, club president, first lead the club in simple warmups from joint rotations to small stretches. After the warmup, Advayananda and Hallman demonstrate various poses, stretches and movements.
"Yoga and meditation for me means complete connectedness, balance in all spheres of life –physical, mental, spiritual and social, too – as it is a universal philosophy and practice to realize oneself and to help others and the world," Advayananda said.
He teaches his students a variety of poses, from seated to lying down meditations. Hallman said the warrior pose, standing in a forward lunge with arms extended, is considered the grounding stance. The cobra pose, lying on the ground facedown and slightly pushing the palms just above the waist, is a more relaxed pose expending little energy.
After stretching, participants are guided into meditation with ambient music playing in the background as Advayananda's voice gently soothes the yogis into a state of deep relaxation.
Tirumalai Krishnamacharya, father of modern yoga, influenced the spread of yoga from India to the west. His emphasis on asana practice became the signature of modern yoga, according to yogajournal.com
Practicing yoga has many benefits, including the profound ability to alleviate the stress college students accumulate in their day-to-day lives. Total body immune health and mental health benefits range from improving flexibility to perfecting posture, improved concentration and lower blood pressure, according to yogajournal.com.
In an article published by Forbes, Paula R. Pullen, research instructor at the Morehouse School of Medicine, wrote: "Yoga balances the body, the hormonal system and the stress response. People tend to think of yoga as being all about flexibility – it's not. It's about rebalancing and healing the body."
Scientists are now seeing the benefits of what yoga can do for the modern world. In a world where stress, anxiety and depression plague much of the population, pharmaceutical companies pump pretty, colorful little pills to stave off the adverse symptoms of mental breakdowns. Most people cannot endure, so they are pushed toward Benzos and opioids.
Some, if not most, of the populace are stuck in a perpetual fight-or-flight response, unable to turn off the switch, calm the mind and process everything around them with a more rational thought process. Yoga and meditation have been known to flip the switch in the mind and calm nerves as seen in many articles from Forbes to yogajournal.com.
"Going to the yoga club is a good way to start," Candace Williams, student program development coordinator, said.
Since joining, students in attendance said they have noticed improved concentration and flexibility, and are more focused in their studies.
"I would say there are a lot of health benefits to it: flexibility, relaxation, just giving the mind a chance to rest. It's really good," Hallman said.