Hemp products benefit planet
By Eric Lopez
Arts & Culture Editor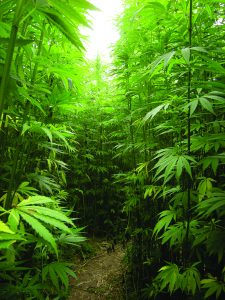 Plastic, fossil fuel, cotton-based clothing and paper are four items industrial hemp could replace.
While hemp products may be a little more expensive, they are more eco-friendly when discarded and perform as well as, or better, than other alternatives, Morris Beegle, owner of Colorado Hemp Company, said.
The Colorado Hemp Company produces hemp paper, hosts hemp-related events and is building a merchandise line, Beegle said.
"We started in 2012 when amendment 64 was introduced to regulate marijuana like alchohol in Colorado," Beegle said. "Within that amendment was a clause that would allow Colorado farmers to grow industrial hemp."
Hemp is a plant that is part of the cannabis family and shares some physical similarities to marijuana. While the two are labeled as cannabis, hemp lacks tetrahydrocannabinol, or THC, marijuana's main psychoactive ingredient, according to hemp.com. Industrial hemp typically contains 0.5-1 percent of THC.
Industrial hemp has been cultivated for at least 12,000 years, according to the North American Industrial Hemp Council. It is grown for its high amounts of fiber and oil contained from its stalk and seed. Over 25,000 products can be made from hemp, meaning the plant can aid in solving some of humanity's pressing issues, according to naihc.org.
"The fiber can then be used for a variety of different things, including textiles, paper, rope, insulation, composites and graphene replacement," Beegle said. The flower is primarily used for cannabinoid extractions that are used in health supplements, body care products and food.
One product, industrial hemp paper, can withstand more foldings and does not yellow over time like paper made from timber, according to the National Hemp Association.
Oil produced from hemp seeds is a high source of protein and can be transformed into a clean form of biodiesel, a renewable fuel source, according to hemp.com. Biodiesel is the only alternative fuel in the U.S. to complete Environmental Protection Agency Tier I Health Effects Testing of the Clean Air Act. Biodiesel can be used in most diesel engines safely.
Today, petroleum-based plastics pollute the Earth and could eventually find their way into the human diet through fish that might eat plastics floating in the waters. Half of the plastic used is thrown away after its first use, and only 5 percent of plastics produced are recycled, according to ecowatch.com. Enough plastic is thrown away each year to circle the Earth four times.
Hemp could create a plastic to replace all plastic. Reinforced with hemp fibers, this plastic could be completely biodegradable. Hemp plastic is also said to be twice as strong as polypropylene plastic and poses no health risks, according to natural.news.