Zombie English Students Stagger To English 1302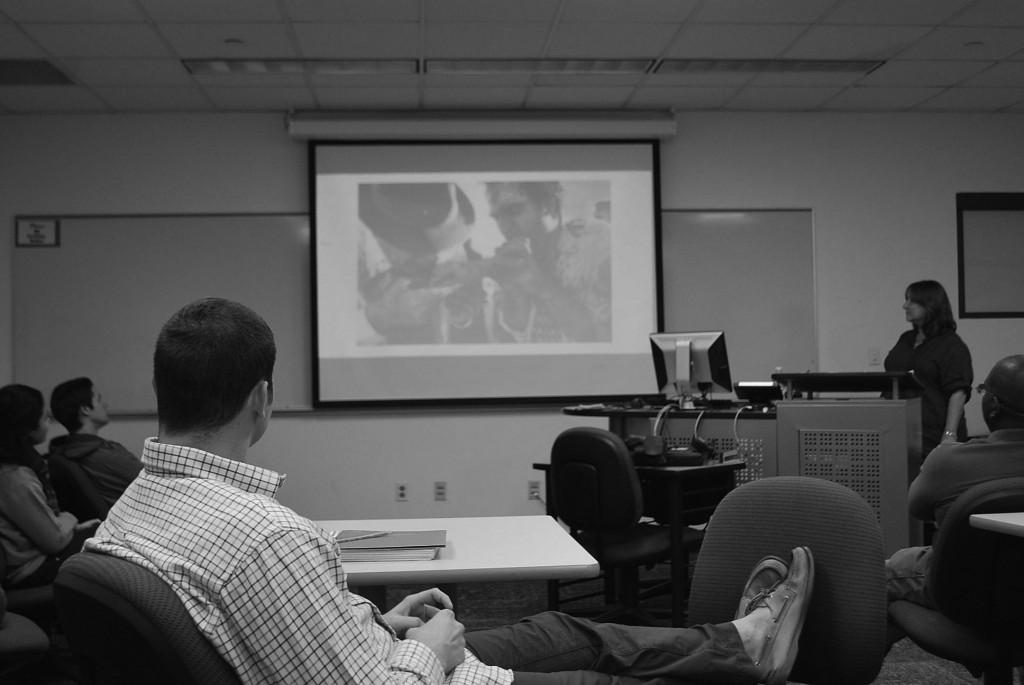 By Brandon Hines
Staff Writer
Zombie fever has swept across American pop culture like a grand pandemic. On Sunday, Oct. 14, the season three premiere of AMC's "The Walking Dead" reached a record 10.9 million viewers, taking the record of most viewers for a single basic cable television episode from, ironically, "The Walking Dead" season two's debut.
At Brookhaven College, one teacher embraces the living dead by teaching "Zombie English." Professor Elizabeth Alewine, also known around campus as "the zombie teacher," is putting a refreshing spin on the ordinary English 1302 course.
Instead of reading classics like "To Kill a Mockingbird" or "The Great Gatsby," students will write reviews on classic zombie movies such as "White Zombie," "Night of the Living Dead" or "Dawn of the Dead." Required readings include "Pride and Prejudice and Zombies" and "Abraham Lincoln: Vampire Hunter." The course not only focuses on the literature of zombies, but also the history behind them.
"I have them do research, and they do a short paper on the history of zombies in Africa, Haiti and, of course, Hollywood," Alewine said. "Chicken Soup For the Undead Soul" is a book of college-level essays and scholarly articles by professors that discusses different aspects of the undead. Alewine recommends books such as this to conduct research.
Zombie culture originated as a part of a shamanistic religion, the Voudon, dating back to 1685, Alewine said. Many say the Voudon can be traced back to the African Ivory Coast and a couple of other places in the Caribbean and Haiti.
Three years ago, Alewine taught courses at Collin County Community College, where she said the students had to have "lab credits." From that, the Zombie English idea was conceived.  She created a zombie-themed scavenger hunt for the students that resulted in higher than average grades.
That year, during Christmas break, Alewine realized that she had stumbled upon something that worked. With this realization and a group of motivated students in support, she pitched the idea of Zombie English to her supervisor at Brookhaven, senior English professor Hazel Carlos.
"All classes taught in the Brookhaven English Department must follow the same student learning outcomes," Alewine said. "The same number of papers and learning objectives as all other English classes. The primary concentration is on structure." Zombie English was no different, except for its focus on zombies. When Zombie English was pitched to Kendra Vaglienti, executive dean, Communications Division, she read several of the papers Alewine submitted and was very impressed.
"Liz is crazy about that [zombie] stuff," Vaglienti said. "She is really thrilled and passionate about her class. She has the ability to inspire and excite her students about this subject. We are always looking for innovative ways to help students be motivated in their English classes. Some students get really energized to learn about the 'walking dead' and they say, 'This will be a cool English class versus my other English class, where we talk about Shakespeare all day long.'"
Vaglienti said: "Usually when teachers come in with their wonderful ideas, I'm always the type that says, 'Let's go for it,'" Vaglienti said. "That's just the way my personality is."
She further stated, "If it doesn't work, I'm the first to say, 'We're not going to try that again.'"
The attrition rate of Alewine's classes is low; however, there are some students who are not fans of the living dead, much less of taking a semester devoted to English with a twist of zombie.
Brookhaven student Ashlee Branch is a self-described "hemophobic" — terrified of blood. "I don't like any horror, gory movies," Branch said. "Even learning about the origination of zombies and subjects like voodoo seems unbelievable and made up."
Branch wants to major in pharmaceutical sciences and someday hopes to work as a pharmacist in a hospital. (That's as close as she is willing to work around blood.)
Another one of Alewine's students, Army veteran Phillip Curran, said he landed in Zombie English by the "luck of the draw." Today, Curran recruits seniors from local high schools to join future classes. "I love everything to do with blood, gore and guts," Curran said.
If students plan to take Alewine's Zombie English in the coming semester, they may want to hurry.
Student Normand Vezina liked Alewine's class so much that he took it twice. "In Zombie English, I actually learned how to write a college-level research paper," Vezina said excitedly. "I would recommend this class to everyone at Brookhaven. It's genuinely fun learning about the undead." Vezina is a business major who aspires to own a restaurant one day.
Alewine has taught Zombie English for four semesters now, and has no intention of stopping anytime soon. Alewine does not believe in zombies or the undead. She did, however, say she believes in doing whatever it takes to give her students the best education possible.