Underdog Luka Dončić becomes phenom in NBA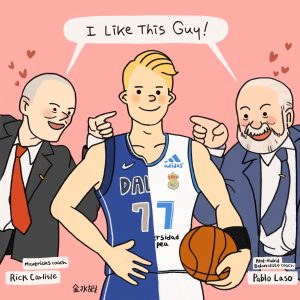 By Malen Blackmon
Sports Editor
Luka Dončić, a 20-year-old Slovenian basketball player, has set fire to the Dallas Mavericks and the NBA. Coaches, general managers, scouts, players and fans across the globe have taken notice and marveled at the rookie's impact on the NBA.
According to ESPN, Dončić started his professional basketball career at 16 years of age. He was the youngest player to sign with Spanish basketball team Real Madrid Baloncesto and the third youngest to sign in the history of the Liga ACB, the top division of professional basketball in the Spanish basketball league system.
Transitioning into the NBA from Europe has been problematic for a high percentage of Euro-League stars. Adjustment to the faster-paced NBA's athleticism and the overall level of talent in the U.S. have been a difficult task for them to overcome.
As the third pick overall in the NBA draft, a lot of questions surrounded Dončić's ability to make the transition smoothly. Lottery picks, the top 14 overall picks, are projected to be future stars of the NBA. But according to ESPN, only three of 23 international lottery picks have become All-Stars.
General managers and scouts flew to Spain to scout Dončić. That is not a trip most teams are willing to make. A 10-hour flight from the U.S. is a long way to go to watch a kid you're not sure about, especially considering they have to evaluate his talent while he's playing against others who will never play in the NBA.
According to clutchpoints.com, Donnie Nelson, the Dallas Mavericks' general manager, told Sports Illustrated he felt Dončić would have been the best player in the 2017 NBA Draft. Teams weren't willing to take the chance on Dončić, but the Mavericks did and struck gold.
According to mavsmoneyball.com, on Jan. 27, Dončić became the youngest player in NBA history to record a 30-point triple-double. He finished second in All-Star fan voting this season. The only player to amass more votes was NBA legend and icon Lebron James.
Dončić did not make the final roster because he did not receive enough player and coaching votes. Respected members of the NBA voiced opinions praising him.
"He's unbelievable," the Golden State Warriors' Steph Curry told ESPN, according to CBS Sports. "He's made himself known for sure."
Steve Kerr, Warriors head coach, backed Curry's comments. He said he had never seen Dončić play until he entered the NBA. "The guy doesn't look like a rookie. … I think he's already an All-Star," Kerr said.
Warriors forward Draymond Green added his input as well, saying, "I don't know if he's an All-Star with how the numbers work, but he's an All-Star player."
According to ESPN, as of March 4, Dončić leads the Mavericks in the three major categories: points per game, rebounds and assists. According to Baskeball Reference, Dončić is the second player since 1983 to score 500 points, 150 rebounds and 100 assists by his 28th game in the NBA. If he keeps up his pace this season, he will be in a category with James and Oscar Robertson in terms of rookie year statistics.
Acoording to sbnation.com, during Dončić's European basketball tenure, some of his major accomplishments included three ACB Championships, ACB MVP, EuroLeague MVP and a EuroLeague Championship.
According to SportsDay, Dončić said James is his favorite player. "To be like Lebron, I have to work much harder," he said.
Dončić has become the perfect replacement for Dirk Nowitzki and the new face of the Dallas Mavericks franchise. He has triggered the Lebron James Effect on Mavericks home ticket pricing this season at the American Airlines Center. The Lebron James effect is where a player single-handedly has an effect on the economy in the city they play for, according to cnbc.com
NBA Hall of Famer Charles Barkley spoke about Dončić's current and future impact on the NBA as well. According to SportsDay, Barkley said, "That's a bad white boy. … We're getting really close to little black kids in the hood wearing his jersey. Real close. It used to be Larry Bird, Steve Nash, Dirk Nowitzki, [Manu] Ginobili, that was it. Dončić, if he keeps playing like this, we're going to see his number in the hood." According to atlas.com, over 70 percent of players in the NBA are black.
Dončić is trending upward and turned doubters into believers across the NBA. All of the questions that circulate around EuroLeague prospects, Dončić has answered with conviction. He is the front runner for the 2018-2019 NBA Rookie of the Year award, according to NBC Sports. As of Feb. 28, the Mavericks are six games out of the eighth seed in the Western Conference with 21 games remaining.