Haunted Restaurant Thrills
By C. Brandon Hines
Staff Writer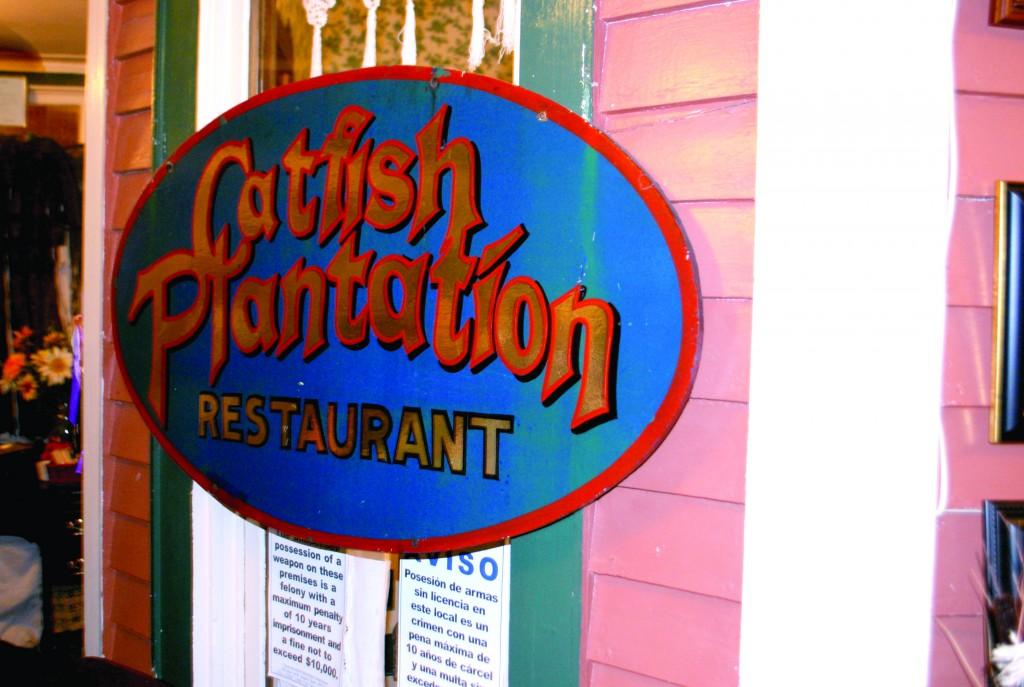 It was a regular Thursday night, just like any other, when I visited the Catfish Plantation, located 35 miles south of Dallas in Waxahachie, Texas, with my family. We soon came to realize that this would not be an ordinary night. We will get to that later.
Founders Tom and Melissa Baker established the Catfish Plantation in 1984.
Employees said the third week in September through the end of October marks the busiest time of year at the Catfish Plantation. Crowds come out in droves, not specifically to dine, but to ghost hunt. Our host, Alyssa Felkis, dressed as Alice in Wonderland, is a psychology major from Midlothian, Texas, and said, "There have been many strange things that have happened, and I have only worked at the Plantation for a month."
There is certain nostalgia to the establishment; others may use the word novelty. When Felkis was asked if the Halloween decorations stay up year-round, she replied, "No;" however, there is a distinct static-sounding voice on my digital recorder that interjected, "Yes it is."
The old Victorian-style home-turned-restaurant was built in 1895. Since then, the long-standing house has had several owners, as well as other inhabitants. The Catfish Plantation staff said  some of the aforementioned inhabitants, three in particular, are still there. One is a ghost named Will who is often spotted on the front porch. Will has a reputation of being quite the flirt. He puts his hand on women's shoulders or plays with their hair.
While touring the restaurant, Taylor McClendon, a pre-med student at Southern Methodist University in Dallas, exclaimed, "I just went to straighten a spoon, then all of a sudden, it just moved right back to laying crooked." At first, McClendon concluded it must have been a magnet that moved the spoon back to its place. Felkis assured McClendon that there were no magnets under the table. Upon further investigation, there, in fact, were no magnets.
The spooks are not the only scary part of the Catfish Plantation. Unfortunately, the food can be described as horror-ible, though we did get our money's worth out of ghost stories. For an appetizer, we went with the onion rings and fried pickles, both of which were our waitress Joyce Steele's suggestion.
Steele, a tenured veteran waitress who has been with The Plantation since opening day, was the only waitress working this particular Thursday night. The other server was out sick, so she was left to take care of eight tables all by herself. Let's just say she did her best under the circumstances, but the service was sub-par at best.
Steele was very friendly, but had the charm of a burned-out career waitress. She gave us the impression that her attitude was "What do you want, so I can get out of here?" I ordered the Plantation Platter, which consisted of two catfish fillets, one tasty and Cajun fried, the other not so good in the regular batter; two fried shrimp that had seen better days; one huge congealed (fishy) crab cake; two delicious hush puppies; and steak fries that tasted like they had been cooked, frozen without the aid of baking soda to remove foul odors, then refried. All in all, it was a fried hot mess on a plate.
My mother ordered really over-processed, chewy chicken breast covered in a breading that seemed to consist of flour, grease, more flour, pepper, a tad more grease, then re-dredged again through the flour/grease pepper concoction. There was about half an inch of breading that was crispy on the outside, gooey and doughy on the inside. The crust fell off the chicken upon cutting it.
This is a place that visitors will want to see once to say that they came, but not a place most will want to revisit. The Travel Channel listed the Catfish Plantation as one of the "scariest and most haunted restaurants in America." As you walk into the home, there is a strong "musty smell" that hits you in the face like a bag of bricks, and that may be where the name comes from.
"The Landis family purchased the Catfish Plantation from the Baker family five years ago," Briana Jordan, manager and cook, explained.
Jordan has been part of the Catfish Plantation for seven years, two years longer than the current owners. "A lot of weird stuff happens here," Jordan said. "I actually do get scared. For instance, I work in the kitchen and the burners on the stove will turn on by themselves. You are supposed to light them with a lighter; they are not supposed to ignite by themselves." This is not the only spooky occurrence Jordan has experienced. She said that the spout on the tea urn spills all over the floor regularly.
Jordan said lights turn on by themselves, and the silverware is always messed up. "When we leave tonight and come back in the morning, the silverware will be different," she said. Jordan is in charge of closing up shop and said things can get a little creepy. The 2009 TV show "Ghost Lab" showed silverware moving on camera. I'm sure if you visit the Catfish Plantation yourself, seeing will actually be believing.