By Amy Price
Editor-in-Chief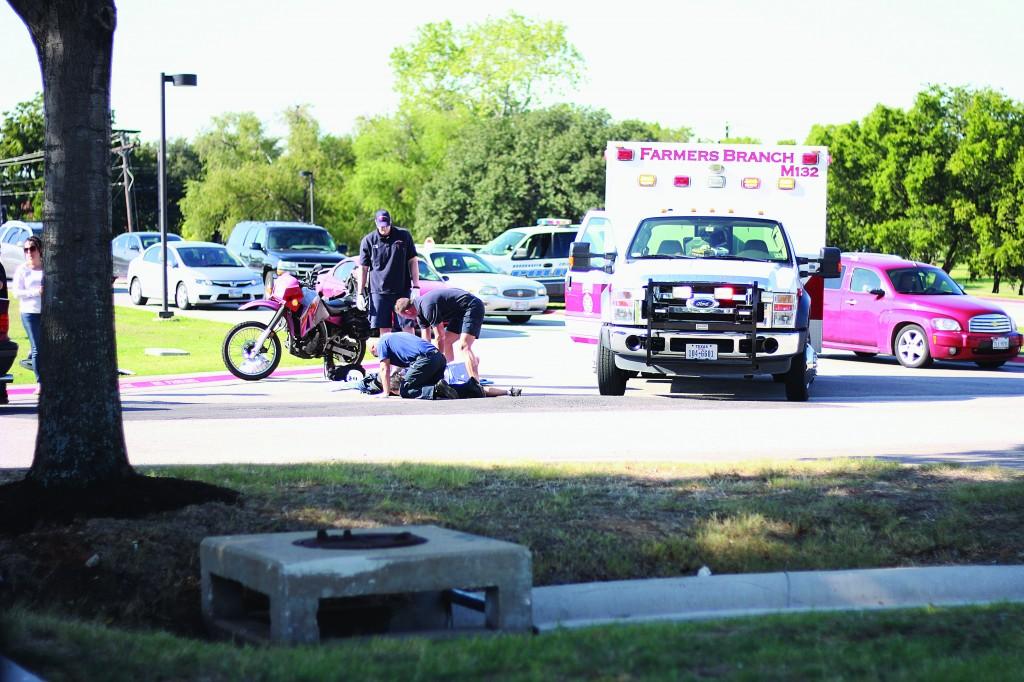 Sirens blared out as emergency vehicles made their way to the entrance of Brookhaven College, with traffic backed up and spilled out onto Valley View Lane. One unidentified female lay on the pavement and a red BMW sedan was parked to the side. Lying on the ground next to her was a struck teal blue beach cruiser bicycle. Paramedics jumped out of the ambulance and rushed to help the fallen female.
At approximately 10 a.m. Sept. 19, a vehicle near the Valley View Lane entrance at Brookhaven College struck a woman riding a bicycle.
Campus police came to the immediate aid of the victim, secured a perimeter and directed traffic. The ambulance swiftly made it to the scene and promptly rushed the female to the hospital. No arrests were made.
Campus police Captain John Klingensmith said the female suffered no major injuries.
Avid walking trail user Pam Chapman came across the scene after it happened. Chapman said the female did not appear to be wearing a helmet. She said this was not the first accident she has seen at this intersection, and she has noticed that many drivers seem confused about the cross-traffic.
"I've seen a lot of accidents — even a hit and run," Chapman said. "A lot of people don't realize they need to stop. It's not really that clear."
There have been five reported accidents in various locations around campus, including the one at the south entrance, since the beginning of the fall semester, according to the campus police crime log.
Students Ajayy Pollock and Megan Medina frequently use the Valley View Lane entrance and said it can prove to be frustrating. "When they [vehicles] are coming in from the street [Valley View Lane] they stop and I'm like, 'You don't have a stop sign,'" Pollock said.
Pollock said this causes a lot of confusion and people are making assumptions that it is okay to proceed.
Pollock and Medina were unaware of the accident on Sept. 19 and shocked to hear about the recent accident. "That's scary and really tragic," Medina said.
Despite the confusion, the intersection is properly marked.
There are signs posted on the east and west stop signs at the intersection that state, "Cross traffic does not stop." There are also signs posted for drivers entering campus. The left lane is for turning only and the right lane allows drivers to proceed forward or turn right. There is no stop sign for vehicles entering campus.
Campus police often direct traffic during the busy hours in the morning through early afternoons. The other option is to use the alternate entrance on the east side of campus.
Police were contacted for questions about the entrance, and as of press date, have not responded.