Convention Offers Revelry, Opportunity
By Aaron Ortega
Opinion Editor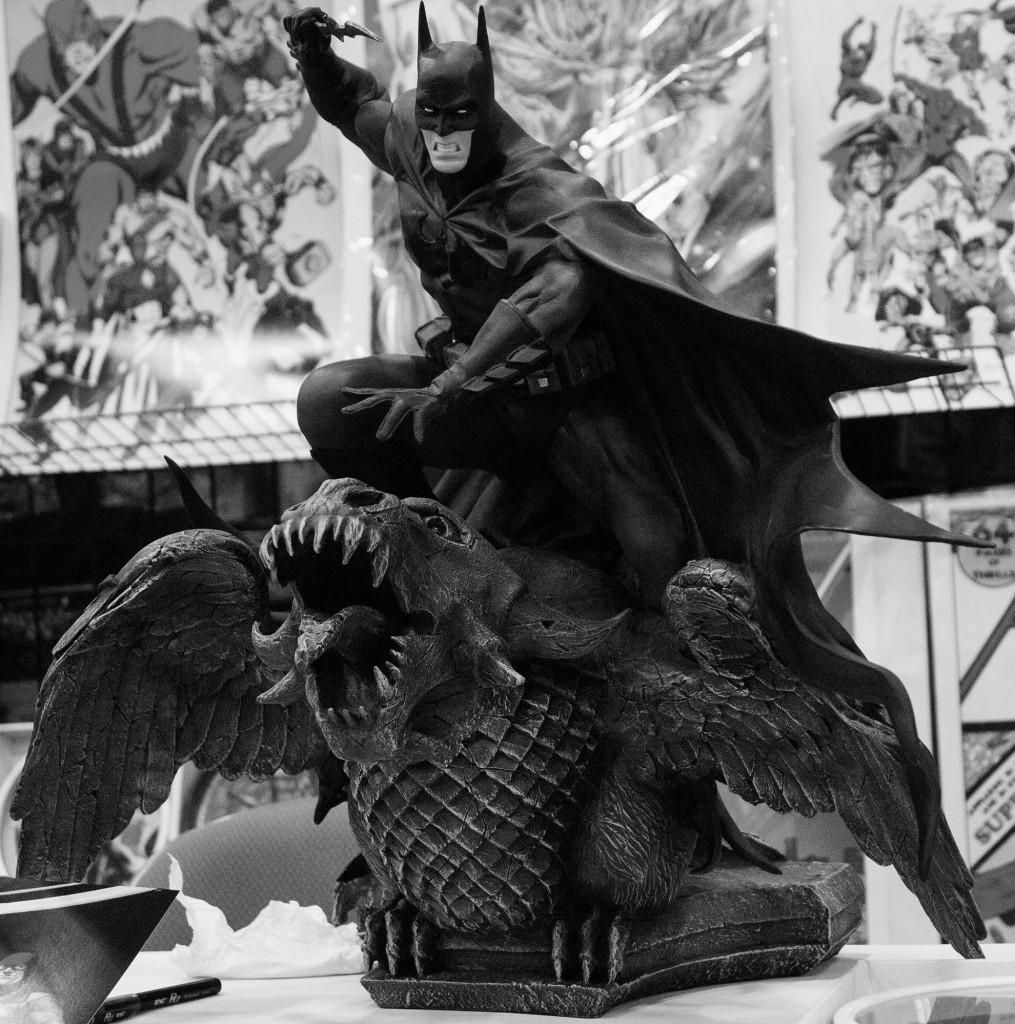 A father Superman stops and helps his Superman son navigate a parade of costumed fans. A xenomorph from the popular "Alien" films, surrounded by hordes of gawkers brandishing smartphones and cameras, becomes the subject of impromptu photo-ops, in paparazzi fashion usually centered on Hollywood celebrities. A Batman and Catwoman couple walks hand in hand. One fan's T-shirt plainly states, "If it weren't for Carbon-14, I wouldn't date at all."
This was the common scene at Dallas Comic Con's Fan Days, a three-day convention devoted to the culture of science fiction and comic book enthusiasts, which beckoned droves of Dallas' dedicated fans Oct. 20-22.
A host of guest appearances, as well as merchants of sci-fi toys and memorabilia, were promoted as the main attractions of the event. However, the costume contest seemed to take center stage, as traffic constantly halted for photo sessions among the costumed participants.
Key speakers also highlighted the afternoon's festivities with notable Q-and-A sessions. Sean Astin, best known for his role as Sam from the "The Lord of the Rings" trilogy and Mikey from the 1985 film "The Goonies" drew a large crowd in the auditorium on the fourth floor of the convention center. Astin answered questions from many fans.
Regarding the possibility of a "Goonies," sequel, Astin said, "There will be, 100 percent, without fail, categorically, I confirm, a sequel to 'Goonies.'" The hushed crowd erupted into applause. Astin then said, "It may not be in my lifetime or yours, but I will say yes." Laughter ensued before he finished his sentence.
Another notable guest, Robert Englund, or as most fans have come to know him, Freddy Krueger from the "A Nightmare On Elm Street" films, addressed a similar crowd later that day.
As Fan Days draws a wide array of fans from every facet of sci-fi, horror, and comic book culture, Englund answered a question about his strangest encounter with a fan.
"My 'Nightmare' fans have not been too crazy," he said. "My fans from 'V' were a little stranger." Englund also starred in the sci-fi television series, "V," which aired from 1984-1985.
Englund said, "I think part of the reason is the science fiction fans obsess more with detail. I think horror fans obsess more with image and emotion."
From intricate Stormtrooper costumes to full-body Iron Man suits, enthusiasts displayed an acute attention to detail, vying for winning the event's costume contest.
Among the most common garb worn that afternoon were the Stormtrooper, The Joker, and the occasional Freddy Krueger.
Devotees of all ages shared their enthusiasm for fitting themselves in the disguise of their favorite science fiction character.
Another staple attraction of the convention featured exhibitors on the first floor, who displayed their wares of comics, toys and other memorabilia for sale.
Everything from vintage toys to comic books shared real estate in the main auditorium. Some retailers featured other items, such as handmade satchels, jewelry or weapons inside casings labeled; "In case of zombies, break glass."
Local retailers, such as Dallas Vintage Toys, presented a colorful array of plastic memories in their collections of sci-fi antiques, such as Star Wars and other toy lines.
Jared Guyness, representative of Dallas Vintage Toys, explained why attending the convention was good for business. Guyness said: "It's mostly visibility. Most people don't even realize our toy [store] exists. I'm kind of using the convention as a marketing excuse."
Fan Days took place Oct. 19-Oct. 21, at the Irving Convention Center.
For information about future events, readers can visit www.scifiexpo.com.