Brookhaven Hosts Komen 3-Day
By Amy Price
& Gabrielle Rodriguez
Editor-in-Chief & Staff Writer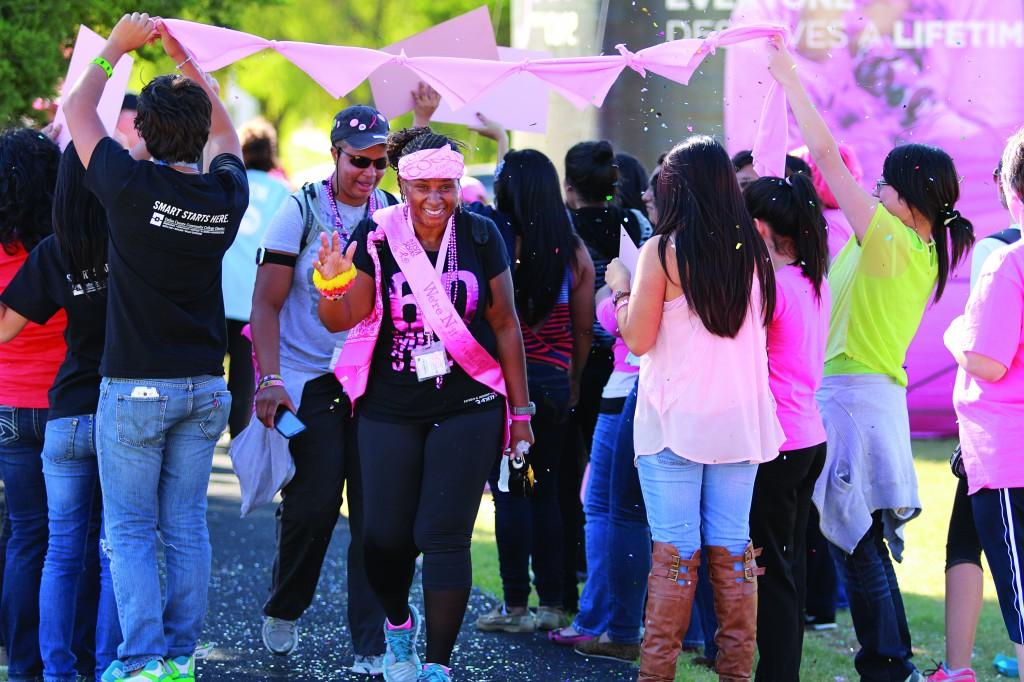 Brookhaven College's jogging trail turned into a sea of pink tents, men and women in bras and tutus, and a barrage of overlapping bags and backpacks. The end of the 60-mile trek concluded with tears of joy, handfuls of pastel confetti and roaring applause as Susan G. Komen 3-Day participants passed through the finish line.
Nov. 2–Nov. 4 marked Brookhaven's fourth year as host to the Susan G. Komen 3-Day Walk.
Headquartered right here in Dallas, Susan G. Komen, better known as Susan G. Komen for the Cure, is the largest, most well-known nonprofit breast cancer organization in the United States, according to Oxford University Press.
The 3-Day walk is a 60-mile trek, and is open to anyone of any age or occupation who wants to have a hand in the fight against breast cancer.
Dawn Bishop, assistant to the vice president for business services, said much of the success of the 3-Day was "due to the support we received over the course of the three days." Bishop said the college was supported by sites, pit stops, and local jurisdictions on the route, as well as being supplied with cases of water, portable toilets, medical support and emergency relocation sites.
Bishop said there was a total of 1,600 walkers this year, including Brookhaven Business Office cashier Melody Guerra Landa, and 326 volunteers who supported the event. This year's team raised over $4.3 million, which, according to www.the3day.org, goes toward funding  community education and outreach programs.
The volunteers and participants flooded campus to begin the 3-Day walk, which started at Collin Creek Mall for the opening ceremony.
Walking for the second time this year was Alice Borge, a participant from Phoenix, Arizona. Borge said she is participating in four of the 14 walks in the 2012 series, starting in Boston and ending in San Diego. "I've lost family, and for me it's really important to contribute to the fight any way I can," Borge said. "I'm really tired. I could give you the PR response, but I'm going to be honest and say yes, I'm tired."
Tired or not, volunteers showed their spirit. Volunteer Tom Klinger wore SpongeBob SquarePants boxers, a huge, stuffed bra and a hot pink wig. "People always want to take photos with me. I wonder why," he said, adding that people remember him every year. As a Komen participant and volunteer for 10 years, Klinger said, "Brookhaven is one of the best sites to work with," and added that the college is always accommodating.
The participants walked through the city from Collin Creek Mall past The University of Texas at Dallas, through Highland Park and ending at Fair Park.
To keep count of all participants, volunteer Pam Wilemon scanned everyone in as they crossed the finish line and recorded their times. "I make sure they make it to the finish line and no one goes missing," Wilemon said.
Brookhaven's grounds are not only where participants slept, but also where they showered, ate and lived for the three days.
The 2012 3-Day series is coming to an end. However, readers can register for the  upcoming 2013 series of the Komen 3-Day, or sign up to volunteer, by visiting www.the3day.org.