By Scott Mitchell
A&E/Sports Editor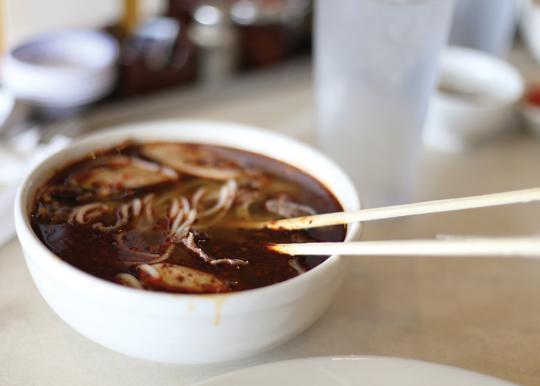 A plethora of foreign tastes are served from the kitchen, where the faint sounds of a poker game echo toward the front of the restaurant. It may not feel like the stylish eateries of Dallas proper, but the small restaurant packs just as much flavor into its food.
Saigon Kitchen, located at the corner of Jupiter Road and Walnut Street in Garland, Texas, is one of many small stores in a strip mall hosting Vietnamese establishments. Saigon Kitchen finds itself at home with its cuisine in this cultural enclave.
The walls inside are covered in wood paneling with occasional pictures of Vietnamese landscapes. It is obvious that the restaurant is not American, without being too culturally disorienting.
Because Saigon Kitchen is located in a small Vietnamese center in Garland, the most difficult part of the dining experience may be ordering the food.
The menu is printed in a mix of Vietnamese and English, and is bustling with words unpracticed by the rigid English tongue. The servers primarily speak Vietnamese, posing a problem for any patron who doesn't speak the language.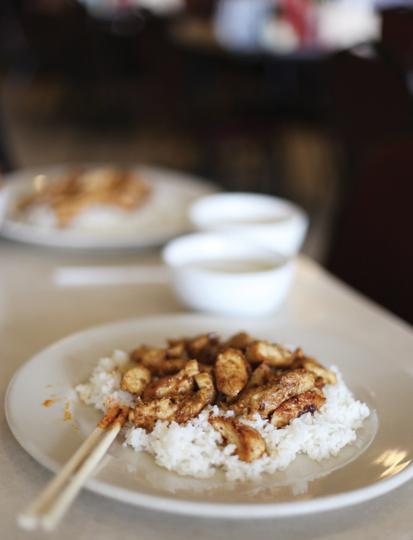 These language barriers aside, Saigon Kitchen has a wide range of tastes on its menu, from standard rice and meat dishes to more culturally unique soups. The rice dishes have beef, chicken or pork in them and offer a more subdued taste while still satisfying an appetite. The cooks will also add significant spice to the meat if asked politely.
Of course, because it is a Vietnamese restaurant, Siagon Kitchen offers the popularized pho dish. While it is difficult to do pho wrong, Saigon Kitchen does it right. Containing the right ratio of meat, noodles and broth, the pho delivers a soothing and filling meal. If more spice is desired, ask for a side of diced peppers. Beware: adding more than one full pepper usually results in unbearable spice.
If erring more on the side of experimentation, the bun bo hue (pronounced boon- bah-whay) is one cultural dish Saigon Kitchen offers. The dish consists of an assortment of meats, thick rice noodles and greenery mixed into some wicked broth with the sole purpose of setting your face on fire. It provides a very desirable, if uncomfortable, meal. Initially, the dish seems akin to a thicker pho, but dipping a soup spoon in the broth leaves the utensil covered in oily redness, exposing its true nature.
As more and more of this lava-like broth is consumed, it becomes apparent the dish is not for the faint of heart (or stomach.) Starting off as a small tingle on the lips and ending in a sweating brow, running nose, and water dripping from the chin, the bun bo hue tastes as distinct as a non-American dish should.
Asking the server to leave a pitcher of water to wash down the burn would be a wise decision. If a patron believes themself to be a spice-devouring deity of sorts, the servers can be asked to make the dish especially hot. But don't do that. Seriously.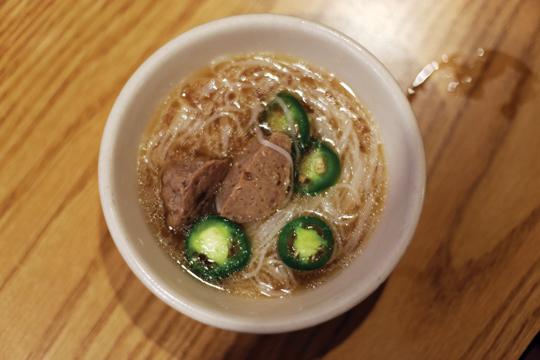 With a wide selection of diverse dishes on the menu, it's great that many of Saigon Kitchen's dishes are under $10. The meat quality is average, and there are not many prime ribs or lamb chops being offered.
What really saves the over- all quality of the food is the diversity of flavors. There are no run-of-the-mill soy sauces or generic Asian-themed flavors. This establishment is a great place to bring people with varied tastes who are seeking something out of the ordinary to try.
Saigon Kitchen offers a very fulfilling meal without costing as much as a full tank of gas. As long as servers who speak fluent English are not a requirement, Saigon Kitchen is worth the drive. Bringing a friend who speaks Vietnamese may not hurt.