Bigfoot enthusiasts surface
By Aaron Ortega
Opinion Editor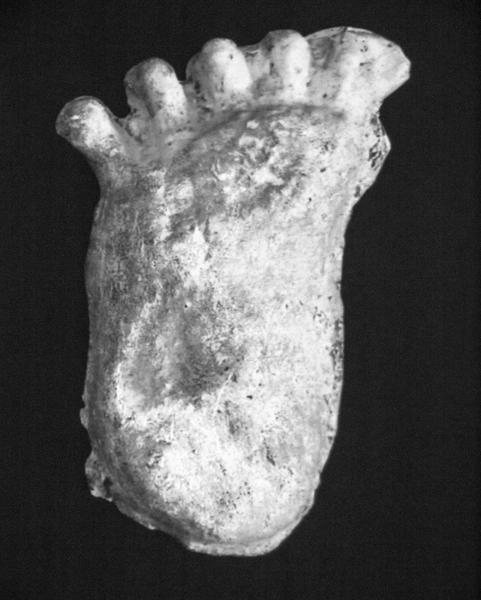 An eager crowd listened to a recording of the sounds of forest nightlife in an expansive banquet hall inside the Fort Worth Convention Center.
Crickets chirped, the wind rustled the leaves and a faint howl could be heard in the distance. A distant grunt could be heard in the background, followed shortly by the thunderous sound of a rock striking a tin roof. The reported source of the propelled stone: a Bigfoot, located in an undisclosed region of Oklahoma.
The 12th annual Texas Bigfoot Conference, a convention devoted solely to the crypto-zoological creature, drew hundreds of enthusiasts, researchers, authors and witnesses to this year's event. Hosted by the North American Wood Ape Conservancy, the one-day event featured several lectures by key speakers from various backgrounds, as well as a vendor's room showcasing everything from books and DVDs to foot castings.
Noted speakers such as movie costume designer and makeup artist Bill Munns, professor Jeff Meldrum, author Lyle Blackburn, and the host of SyFy Channel's series "Destination Truth," Josh Gates, each took to the stage.
The guests took turns hosting their own presentations and providing their insight into the existence of the North American Sasquatch.
Lyle Blackburn, a Texas resident and author of "The Beast of Boggy Creek," frequently speaks at Bigfoot conferences around the country. Blackburn said the Texas Bigfoot Conference is one of the better and more organized conventions he has attended. Blackburn's presentation documented famous Bigfoot sightings throughout history and recent sightings in Texas, as well as neighboring states.
Blackburn, adorned from head to toe in black, including a Roxbury-style hat, stood behind the podium and recounted a recent sighting near the Sabine River in Panola County, Texas. Setting the scene of a hunter perched in a tree, peering through a scope at a herd of pigs, Blackburn's account of the encounter used vivid details.
The hunter watched as a dark, hairy figure maneuvered from tree to tree, closing in on the pigs. This "ape-like" creature eventually bolted out into the open, capturing and killing a pig. Hoisting the kill under its powerful arms, it quickly disappeared into the forest.
Blackburn said besides meeting other speakers, one of his favorite aspects of attending and speaking at these conferences is meeting and making connections with people who share their personal experiences.
"Of course, just like with any conference, part of the appeal is being among other people who are like-minded," Blackburn said. "Whether it's comic books, 'Star Wars,' or Bigfoot, it's a great thing that you can meet people who are interested in the same thing."
Ross Abbey III, a seasoned Bigfoot conference attendee, noted the growing popularity of the Texas conventions. "I went to one when they first had it. They only had about 15 people. I guess, about nine years ago," Abbey said. The banquet hall that housed each lecture was nearly at capacity throughout the day. "It's amazing to see all this," Abbey said.
Jeff Meldrum, an associate professor at Idaho State University specializing in foot morphology, said: "It seems like it's been very successful. I think the move to a larger, newer venue for the Texas Bigfoot Research Conservatory has provided the opportunity for a lot more people to participate."
Attendees were of all ages and traveled from various locations to experience this year's conference. One attendee, Misty Hurley, made the three-and-a-half-hour journey from Nacogdoches, Texas, to experience the Bigfoot festivities. "They're representing different ways of looking at it that I've never thought about, kind of the anthropological sort of way," Hurley said. She said compared to other conferences, the Texas one has been interesting and has shown a variety of perspectives.
The most recognizable name on the roster, Josh Gates, was another reason for Hurley's attendance. Gates' afternoon appearance filled nearly every folding chair in the hall with eager fans. Camera flashes fired from all directions as Gates took to the microphone, smiling and peering from his black-rimmed glasses.
Gates opened his presentation with a simple statistic, stating the nationwide tally of people who believe in Bigfoot: around 29 percent, roughly 91 million people. Gates' lecture predominantly focused on his experiences traveling all over the world in search of the unknown. "We're all really drawn in by the unknown," Gates said, "and the human condition really is such that human beings don't like a mystery. We want to put a face on an experience that we can't understand."
Robert Patino, an attendee, toured the conference through- out the day conversing with various enthusiasts and speakers. Patino said, "I had my first encounter in 1976." Patino described an outing with two friends at their preferred fishing spot, when unknown screams and sounds echoed around them.
"Since '76, I've known there's Bigfoot," Patino said.  "After that, I've always been a believer. There's no doubt in my mind what I heard."
Craig Woolheater, co-founder of the Texas Bigfoot Research Center, said the convention's attendance may be second only to a conference held in 2005 in Jefferson, Texas, which drew more than 500 people. For more information concerning events, sightings and news, information can be found on the NAWAC website at woodape.org.