GoPass offers free rides
By Erika Torres
Staff Writer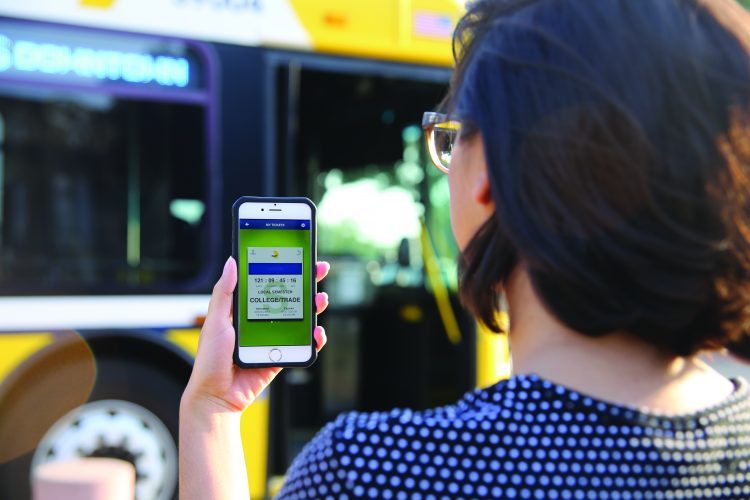 The Dallas Area Rapid Transportation Student GoPass program went into effect in January to provide all Dallas County Community College District students free public transportation.
"I use it every day," Jonas Portillo, a Brookhaven College student, said. Portillo found out the district offers DART passes when he attended El Centro College, and is glad all DCCCD colleges have joined the program. He said he uses DART to go to work and school and the pass is beneficial. He used to pay $30-40 a week before he had the pass.
According to the Brookhaven College website, to be eligible for the pass, students must be enrolled in six or more credit hours during the fall or spring semester, and three credit hours during a summer term. For continuing education students, 96 or more contact hours are required for the fall or spring semester, and 48 contact hours during summer. Early College High School students are also eligible for the pass.
Patricia Miles, a student, said she found out about the pass from a fellow student who uses it. Miles currently does not have a pass and plans to use the regular DART pass in the meantime.
Before requesting the pass, a student must pay their tuition in full or be on a payment plan and have the DART GoPass installed on their smartphone, according to the Brookhaven College website.
The GoPass app is a free download in the app store for both iPhone and Android devices. After downloading, students can register their app to activate the account with their phone number.
Students may request their GoPass through eConnect. The form asks for a name, a student ID number, an email address and if the student has a smartphone. After submitting the form, students should receive an email informing their request is being reviewed. Once a student is approved, the GoPass will automatically be available on their phone.
After about two business days, the pass is available under the My Tickets tab.
The Student GoPass is reactivated each semester once students register for classes, according to a DCCCD website.
If students do not have a smartphone to download the app, they can obtain a physical ticket.
To obtain a physical ticket, students must fill out a request form in the business office in S Building, according to the DCCCD website. Physical passes will be given out beginning Sept. 12.
If a student's phone number changes, the business office should be notified to deactivate the old number and activate the new one, which takes about two business days, according to the DCCCD website.
Deanie Martin, director of business operations, said students who drop classes may become ineligible for the pass. The DCCCD offices will periodically check and remove students from the DART GoPass list if they are no longer eligible for the pass.