Taco Bell's new breakfast menu unwrapped
By  Kathryn DeBruler
Senior Staff Writer
Taco Bell – a staple drive thru restaurant that is appreciated coast-to-coast in the U.S. – has enjoyed a long standing, late-night relationship with inebriated and stoned college kids for time immemorial, meeting their altered state needs with ample supply of burritos, tacos and endless versions thereof. But now, in an effort to capture that elusive yet lucrative market known as the Wake and Bakes, Taco Bell has unveiled its early morning, artery busting, fast food artillery.
While the menu as a whole has generated plenty of anticipatory buzz among the online community, it is the waffle taco that has garnered the most attention. The waffle taco is, a waffle, gently folded in half in order to cradle a host of breakfast food favorites such as scrambled eggs, meat and cheese. Historically speaking, these same ingredients have been sandwiched between tortillas, toast or English muffins. Only in times of improper grocery list making or dire hardship would a person have substituted a waffle for traditional carbohydrates.
Until, that is, Taco Bell came along and demonstrated to the world just how utilitarian the waffle really is. Its structural components have long been recognized for their superior syrup-trapping qualities, but Taco Bell breathes new life into waffle pockets, giving them an opportunity to hug onto all manner of breakfast meat.
I like the concept of the taco waffle. It makes sense. It hits all the breakfast bases and does so with supreme, single-handed convenience. If only the execution lived up to the concept. I was not expecting the airy, impossibly crisp waffles of my Martha-Stewart-as-permanent-house-guest-fantasies. Still, I expect that for $2.49 the waffle in my waffle taco will at least put up a fight against Eggo. Sadly, the waffles in both my bacon and sausage waffle tacos were served up semi-spongy and greasy enough to make me feel bad about myself. The flavor of the waffle was its saving grace, providing the slightly sweet and vanilla tinged ying to the salty, rich yang of the other ingredients.
Given a choice between the bacon and sausage versions, opt for the former. The breakfast sausage could use a serious kick in the texture department, and could also use a bit of spice both in terms of heat as well as herbs. The bacon, however, is pleasingly lean, refreshingly crisp. I have no real complaints with the eggs and cheese. The eggs were as light and fluffy as a cumulus cloud. The cheddar cheese — though not as sharp as I'd like it to be – provides a nice antidote to the American cheese that so often accompanies fast food breakfasts.
I enjoyed the product as a whole as it satiated my desire to consume novelty food items, but the waffle taco won't make its way into my breakfast routine anytime soon.
If you find it comforting for breakfast foods to have some version of "morning" in the title, you're in luck because the next three items on the menu are all variations on a theme: the A.M. grilled taco, breakfast burrito and A.M. Crunchwrap
First of all, you can throw around all the fancy-pants names you want: the A.M. grilled taco is just a quesadilla with eggs. Henceforth, I will only acknowledge it by the term Eggadilla. Taco Bell, being the ever omniscient fast food god that they are, know that consumers can only be charged so much for a product they could have made at home in under five minutes. As such, you'll find that the Eggadilla is the least expensive breakfast option on the menu at $1.00 — a fair price for scrambled eggs, cheddar cheese and either bacon, sausage or steak between a folded over tortilla. The tortilla is then slapped on the grill or whatever futuristic device Taco Bell uses to make things appear to be grilled. Bottom line: it's cheap. It's innocuous. It's the Eggadilla.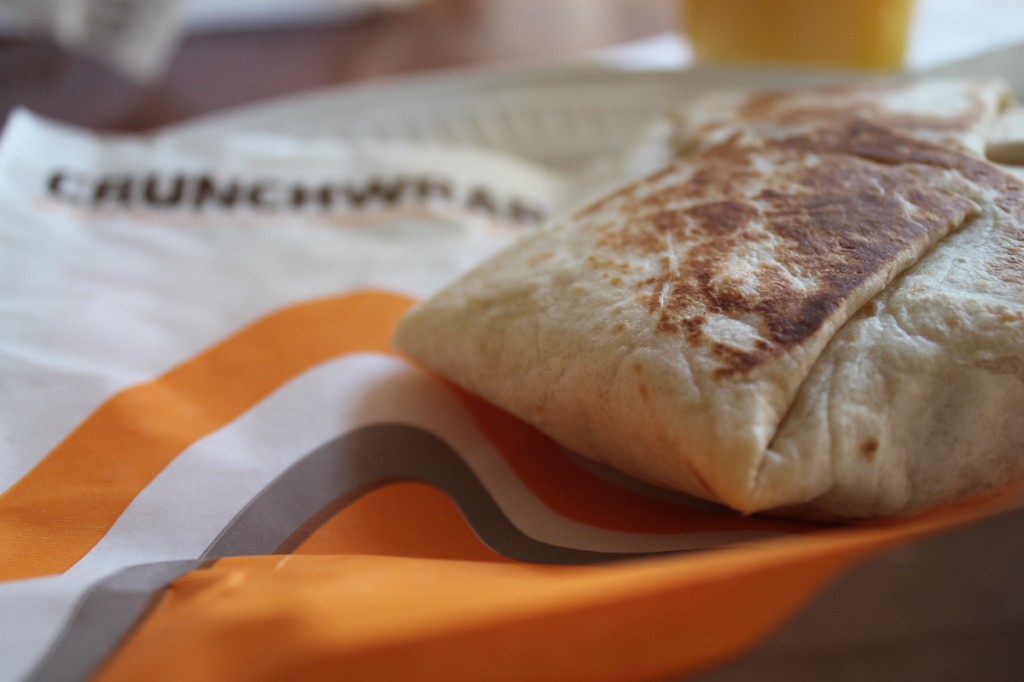 At Taco Bell they turn traditional burrito ingredient distribution methods on their head. I doubt this was a corporate-approved decision, but whoever assembled my burrito made the brave choice to segregate the ingredients. Instead of finding the typical cross-section of egg, bacon and cheese when I bit into my burrito I found bacon. Solid. Bacon. Thinking that this was a fluke, I took several more bites, all of which were bacon intensive. I plunged forward, powering my way through what was beginning to feel like a pork onslaught. And then, just as I began to question my deep and abiding love for all things bacon, it stopped. I found the egg at the end of the burrito. It sat in a big, yellow clump and welcomed me toward it with promises of a bacon reprieve.
Assuming that my burrito was a one-off thing and that ingredients are normally allowed to cohabitate, the breakfast burrito is fine though rather hum-drum. I found myself jonesing for a really bright, citrus-forward verde sauce or the addition of some fresh tomato and cilantro – elements that could elevate the burrito to icon status when compared with similar offerings from other fast food establishments.
Unlike the Eggadilla and burrito, which are the punch-in, punch-out worker bees of the menu, the A.M. Crunchwrap is the employee that shows up early and stays late, leaving the smack of ambition and industry on your lips. The Crunchwrap consists of the usual culprits: scrambled egg, cheese and your choice of steak, sausage or bacon, but with the added fun of a fried hash brown patty and Mystery Sauce. The ingredients are melded together between a flour tortilla which is then folded by an origami master/Taco Bell employee and grilled to create a neat little pocket of golden-brown, handheld goodness. The hash brown provides a much needed crunch amongst a sea of chew. The steak hits the mark when eaten in concert with the rest of the ingredients. When consumed by itself, however, the steak provides little resistance in terms of mouth feel and more closely approximates a smoky, thick cube of lunchmeat.
Let's go back to that Mystery Sauce. Nowhere in Taco Bell's description of the Crunchwrap do they mention the presence of sauce. As such, when you bite into the Crunchwrap for the first time and detect some sort of silky, cheesy, chipotle-infused substance, you are taken aback…. but in a good way. So thank you, Taco Bell, for throwing a little surprise party in my mouth and inviting my best friend, Queso.
At this point, I had consumed approximately seventy thousand calories and the equivalent of one deer-sized salt lick. I needed liquids and fast. Out of morbid curiosity I ordered Taco Bell's new premium hot coffee, which they tout as "….Rainforest Alliance certified™ …. made with 100% Arabica beans." As a self-described coffee purist, I wasn't prepared for this. I needed the coffee to be bad in order to maintain my working knowledge of order in the world. Four sips in and I realized that Taco Bell has not only produced the first cup of decent fast food coffee I have ever had but actually a really good cup of coffee. It starts off smooth and slightly floral and has a nice, bold finish. I will order coffee from Taco Bell in the future, though I may have to wear a wig and sunglasses lest a member of the Coffee Snob Council see me.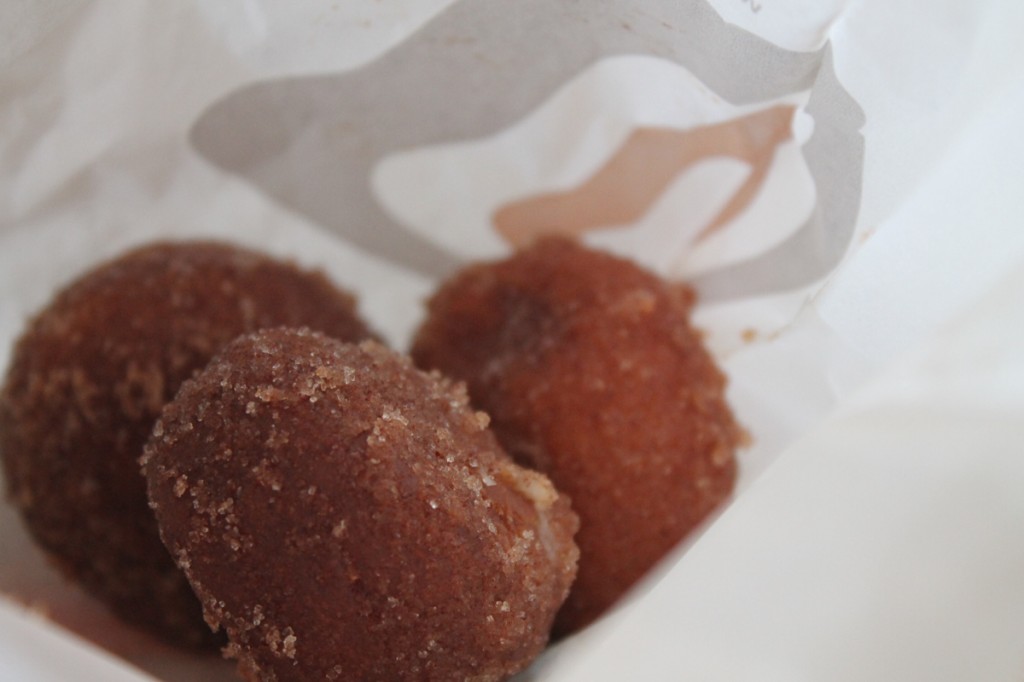 After quenching my thirst I decided to wrap up my whirlwind tour of Taco Bell's breakfast offerings with something sweet. The Cinnabon Delights are round balls of dough which are fried up and filled with frosting before being rolled in cinnamon sugar. What should be an indulgent hybrid between a sopapilla and a cinnamon roll comes across more sinister. The little balls come out slightly shriveled and darkened from all of the grease they've absorbed during the frying process. The icing, unlike the queso inside the A.M. Crunchwrap, is not a welcomed, oozy surprise but instead a sickeningly saccharin torture chamber for one's taste buds. Lesson learned: skip the Cinnaballs.
Ultimately, Taco Bell won't be receiving their first Michelin star anytime soon but they are making strides in terms of menu expansion. A lot of emphasis has been put into the new breakfast menu. From advertising to packaging, Taco Bell is working diligently to compete against the fast food behemoths that currently dominate the to-go breakfast market. While improvements need to be made, the overall menu is such that Taco Bell is shaping up to be a formidable opponent – and not just against your digestive tract.