Burning shoes is not boycotting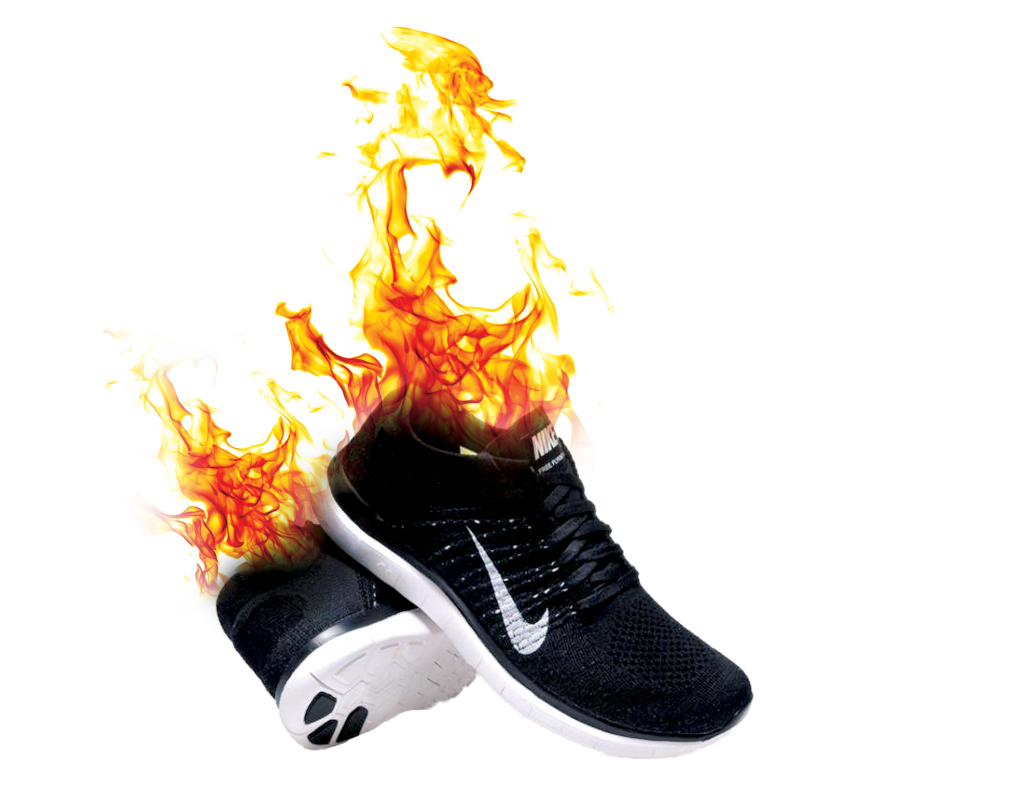 By Marilyn Velazquez
Fashion Editor
Colin Kaepernick became a household name when the then-San Francisco 49ers quarterback was seen sitting during the national anthem Aug. 26, 2016. Many conservatives thought he was being disrespectful to the U.S. flag and the freedom service members have died for.
According to sbnation.com, Kaepernick said: "To me, this is something that has to change. When there's significant change and I feel that flag represents what it's supposed to represent, and this country is representing people the way that it's supposed to, I'll stand," according to sbnation.com.
Following Kaepernick's example, athletes began to kneel during the national anthem to protest the injustice and cruel treatment of unarmed black men and women in this country, the most heated issue being police brutality, according to independent.com.uk.
Kaepernick began to kneel Sept. 1, 2016, for innocent people killed such as Trayvon Martin, Sandra Bland, Philando Castile and Alton Sterling, according to HuffPost.
Nike sales jumped by 31 percent after the company released a new ad campaign featuring Kaepernick as their new spokesperson, according to NBC News.
Immediately, social media users posted reactions to the new ad. Many took to Twitter to show how they would boycott Nike – burning their gear.
Nike knew what it was doing after it gave Kaepernick such a huge platform. As the leading company for sports clothing and accessories, they expected backlash.
One user, Sean Clancy, received over 26,100 retweets and 66,400 likes, Sean Clancy, after posting a video of himself setting his shoes ablaze.
Clancy tweeted: "First the @NFL forces me to choose between my favorite sport and my country. I chose country. Then @Nike forces me to choose between my favorite shoes and my country. Since when did the American flag and the national anthem become offensive?"
According to Rolling Stone, country-singer John Rich, half of the duo Big & Rich and fourth season winner of the "Celebrity Apprentice," posted a picture of his sound technician holding cut up Nike socks on Twitter along with a statement: "Our soundman just cut the Nike swoosh off his socks. Former marine. Get ready @Nike multiply that by the millions."
Burning clothes and gear you already paid for serves no cause. Nike loses nothing when they already took your money. This is not how a boycott works.
Go ahead and burn your Nike items if you want. But don't forget to burn Hurley, Cole Haan, Converse and Umbro shoes as well, because Nike owns those companies too.
Nike wasn't the only company after Kaepernick, Puma and Adidas reportedly were interested in the former quarterback before he chose Nike, according to Yahoo Sports.
Other companies, such as Ford Motor Company, support athletes kneeling against police brutality. "We respect individuals' rights to express their views, even if they are not ones we share," a company official said in a 2017 statement, according to The New York Times.
Guess it's time to burn that F-150.
Burning shoes and cutting socks do not help our veterans in any way. They don't benefit off your retweets and likes. Instead, donate them to a local homeless shelter where veterans who have nowhere else to go reside. I'm sure they'll appreciate the items far more.