History of Earth Day in the the US
By Dillon Piekarsky
Copy Editor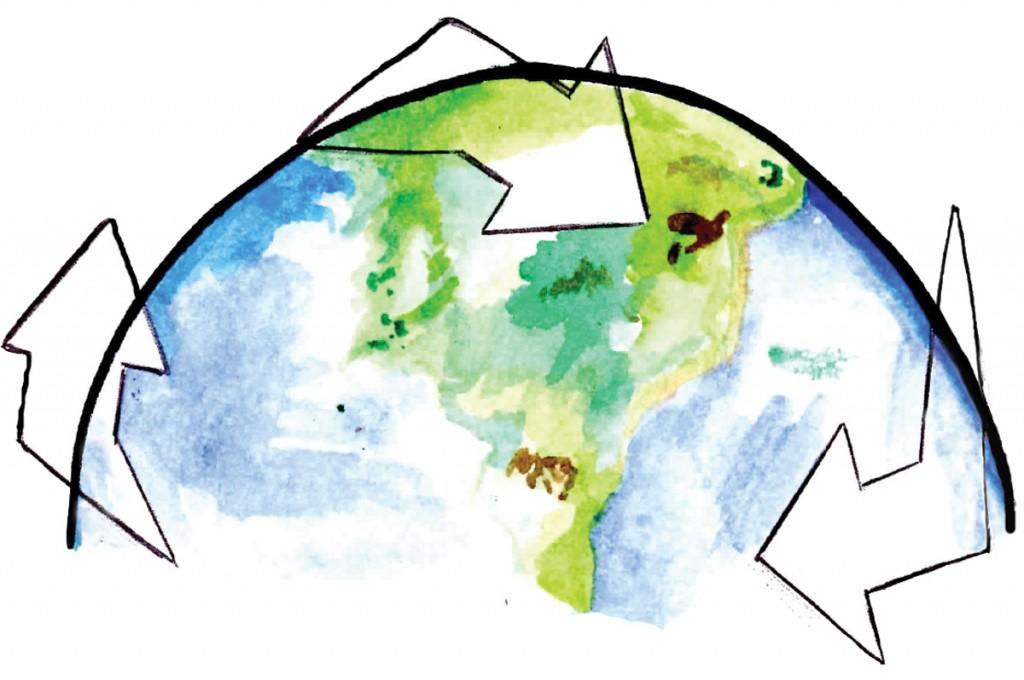 It was the summer of 1969 when democratic senator and former Governor of Wisconsin Gaylord Nelson first suggested a series of teach-ins across the nation to raise environmental awareness.
Nelson was an environmentalist during his tenure as governor, and his policies were popular enough with the Wisconsin public to lead to a senatorial election. He was not quite as successful on a national level initially; in 1966 he failed to ban the pesticide dichlorodiphenyltrichloroethane, or DDT.
"If we could tap into the environmental concerns of the general public and infuse the student anti-war energy into the environmental cause, we could generate a demonstration that would force the issue onto the national political agenda," Nelson wrote. Nelson was right, and later wrote his idea "organized itself."
After his 1969 speech, news publications picked up on the idea of a nation- al ecology day, and they helped evangelize Nelson's cause. Many publications, including Life, Newsweek, Time, Esquire and Fortune, published special environmental issues. In November 1969, Nelson and his staff announced that the nation- wide event would be held April 22, 1970. Nelson claims he selected this date because of its position between Spring Break and final exams.
Nelson rejected suggestions from his staff that the teach-in be centrally organized. He insisted this ecological movement be as grassroots as possible. Every campus was encouraged to hold the first Earth Day in its own way. To help publicize the upcoming event, Nelson established a nonprofit organization named Environmental Teach-In, Inc., which gave the event the title Earth Day.
April 22, 1970, happened to be the 100-year anniversary of Soviet Chairman Vladimir Lenin's birth. Lenin had organized similar, but more compulsory, days of environmental service in the USSR.
Nelson's state of Wisconsin was also home to the anti- communist crusader Joseph McCarthy, and Nelson played an important role in the election of the senator who would replace McCarthy after his death.
Nelson also saw the environment as inseparable from other political issues. He said, "Our goal is not just an environment of clean air and water and scenic beauty. The objective is an environment of decency, quality and mutual respect for all other human beings and all living creatures." Nelson was an early critic of the Vietnam War, and he opposed what he saw as excessive defense spending that only distracted from domestic problems.
The Earth Day push would blossom into a series of environmental protection acts. President Richard Nixon founded the Environmental Protection Agency by executive order in 1970. Other acts soon followed, such as the Clean Air Act, the Toxic Substances Control Act and the Clean Water Act. DDT was eventually banned. The 1970s came to be known as the environmental decade.
In 1980, Ronald Reagan was elected President, and the environmental decade came to a sudden stop. Nelson, along with many other democratic senators, did not last through the conservative resurgence. Despite the loss of legal momentum, Earth Day continued to grow and is now an international event, celebrated in over 192 countries.
In 2009, interim president of Brookhaven College Dr. Richard D. McCrary signed a campus- wide pledge to improve environ- mental stability. "As a college, our focus is on building better futures for our students and supporting our community, so making a commitment to improving our environment seems a natural extension of this," he said. "We must take responsibility and preserve the Earth for future generations to come."