BHC digs dirt
By Jubenal Aguilar
Copy Editor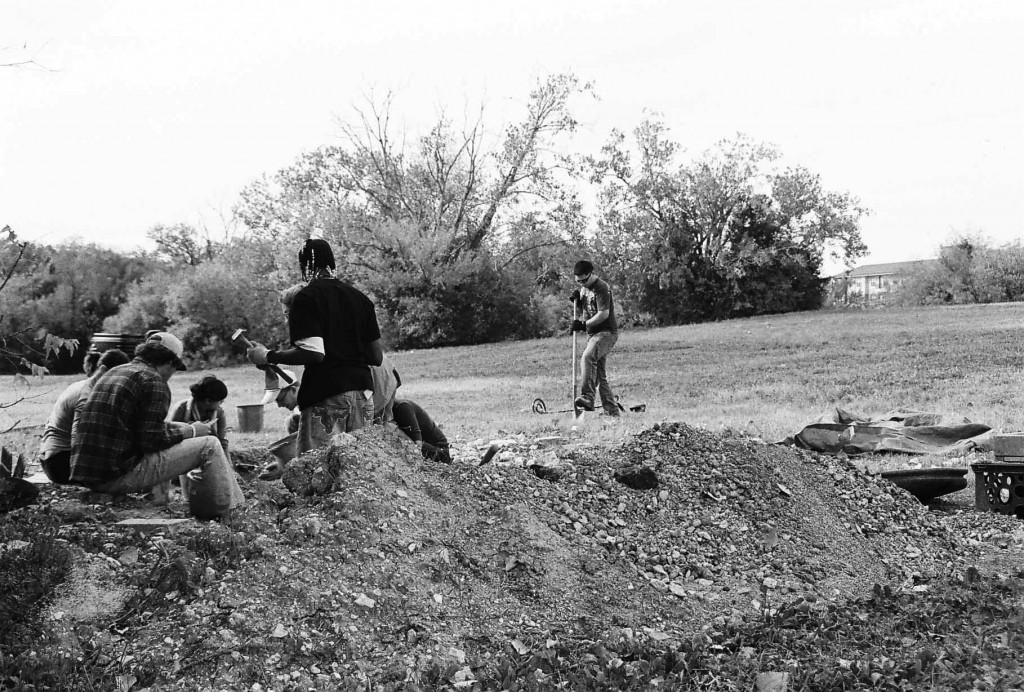 A small group of students gathered around a black 2002 Chevrolet Blazer on a warm November afternoon. They took shovels and hoes from the vehicle and quietly disappeared behind the tree line at the north end of Brookhaven College.
The group walked for several minutes and found their spot behind a large tree in the middle of the field. They uncovered a large hole in the ground. They were not there to bury anything, but instead sought to uncover secrets lost in time.
They were part of the archaeology class working on an excavation similar to those at  sites around the world.
They were the Indiana Joneses of Brookhaven – minus the hats, whips and indigenous tribes.
The class is led by Violet Sparks, anthropology and archaeology adjunct professor in Brookhaven's  Social Science Division. Sparks has taught at Brookhaven for 10 years, eight of which have included the archaeology course.
Sparks said she has been interested in anthropology and archaeology since she was a little girl. "I've never wanted to do anything else," Sparks said. "I learned to read from an old set of encyclopedias that my mother had. When I read about anthropology and archaeology, [it was] just like reading fairy tales. When I discovered that was something I could do, that's all I ever wanted to do."
Sparks grew up traveling the country because of her father's job. She said she remembers attending three different schools in three different states while in third grade – all before Christmas. While growing up, she met people from all over the country, which sparked her interest in learning more about people. She found that outlet in anthropology.
"I'm not your typical professor that graduated high school, went into college and all that," Sparks said. In fact, Sparks never graduated high school. She married young, had children and held various jobs. "I think that helps me relate to students better because … I've actually lived the kind of lives they lived. I've done the jobs that they've done," Sparks said.
After high school, Sparks worked at a wide range of places including a local sewing factory, convenience stores, grocery stores, fast food restaurants and cocktail bars. She eventually landed a job at Boeing in Corinth, Texas, where she built electric cable bundles that run the electrical systems of airplanes and led safety training for a 60-member team, among other administrative tasks.
Sparks was laid off after the events of 9/11 and took advantage of Boeing's offer to train in a different field. She returned to school and received her Master of Arts in applied anthropology from the University of North Texas in 2004.
Sparks applied for a position at Brookhaven recommended by one of her professors and began teaching anthropology in 2005.
Two years later, Sparks said, her dean asked her to teach the new archaeology class. Although she was not an archaeologist herself, Sparks was more than qualified through her experiences in anthropology.
Sparks said a geographic information systems student and Google Earth helped choose the first site on the field north of the college campus. "One of the students came out and [marked] different points for us," Sparks said. "We went to Google Earth and we took pictures going back from 1995."
Image transparencies were overlaid to look for structures that might have existed at one point.  The data showed an old structure that was no longer on the property.
Sparks said the first few weeks of class are devoted to lectures on the basics, which include research of the area. "I don't care where you're digging, you still need to find out something about the history of the area," Sparks said.
"People who work in anthropology must have a neutral mind," Victor Palacios Cruz, a student in Sparks' cultural anthropology class, said. "Ms. Sparks tells us to have an open mind and don't be prejudiced whether [we] work in anthropology or not," he said.
In the field, students must first clear the area by removing grass and other surface obstacles. The site is divided into sections using a grid to indicate where they will dig.
They dig carefully, Sparks said, always making sure not to damage a potential find. The excavated dirt goes into buckets, which are taken to a sifting screen near the site to separate it from rocks and potentially missed finds.
Sparks said she wants students to understand that expensive equipment is not required to practice archaeology. Her class uses shovels and other simple gardening tools. Sparks said she built the sifting screen herself with a mesh screen and two-by-fours.
Sparks said her students have found interesting objects throughout the years. One of the largest was a rock – a piece of concrete – with a boot print clear enough to read the brand. "[A student] researched the brand of boot and it goes back to the '70s," Sparks said. "That would have been when this was a riding stable."
Other finds include different minerals not native to the area, possible arrowheads, parts of an old sprinkler system and sandbags from the construction of X Building. All items are on display in K Building near the Social Science Division office.
Sparks said she will retire from teaching after the anthropology study abroad trip to Ireland in July.
Sam Govea, executive dean of social science and distance learning, said, "She's been a very integral part of this division for a very long time.  She leaves a discipline that's growing.  She leaves us with a discipline that has momentum. I'm really thankful for all that she's been able to do for us over the last ten years."
Sparks plans to travel and research her ancestry. Her findings will eventually go into a book about her family.  She will also be moving to Mississippi for a year with her granddaughter, Steffanie, who will be attending Southern Mississippi University.
"I'm going to try the life of the beach bum," Sparks said, chuckling.