Resilient officer battles cancer
By Jessica Ayers
Staff Writer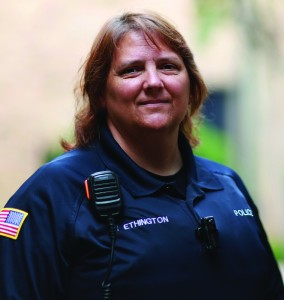 High spirits, check. Sense of humor, check. Love of service, check. Since being diagnosed with breast cancer last fall, the only visible difference for Vikki Ethington, a Brookhaven College police officer, is her attire.
Usually, Ethington can be found patrolling campus in a Brookhaven Police Department uniform, complete with a bulletproof vest. But today she is sitting in an office chair, wearing blue jeans, a polo-style shirt and athletic shoes. Ethington said she is not a fan of office work, but for now, it is a must.
Last November, Ethington was diagnosed with stage I breast cancer and underwent surgery in February to have the tumor removed. With additional reconstructive surgeries planned for the future, her uniform will have to wait.
Each semester, Mildred Kelley, college nurse, coordinates a mobile mammography event with Baylor Health Care. It is an opportunity for Brookhaven students, faculty and staff to get an on-site screening that could detect cancer.
Last fall, Ethington debated about taking advantage of the service. "I had a couple of different reasons," Ethington said. "I'd done self-exams and never found anything, and I'd recently had a check-up and they didn't find anything. So I figured I was good."
It was Brookhaven Police Captain Gabe Galvez who convinced her to get the exam. "I've had family in the past who had cancer," Galvez said. "I just pushed her to go do it as a preventative measure because you never know." He did not know it then, but his encouragement may be the reason she is sitting in the office today.
"Point blank," Ethington said, "he saved my life."
The initial scan came back as inconclusive and required more testing. The results came back the Monday before Thanksgiving last year.
Her eyes begin to reflect the emotions of that day. Her thoughts are in another time and space. For a moment, she is vulnerable. "I just remember sitting in the office," Ethington said. "They told me, and it sort of took me aback. … It threw me off my game a little bit. They left the room and I had a few minutes by myself. I cried a little."
The tears did not last long. Ethington's natural optimism crept in just as quickly as the tears had fallen. "After I cried, I was like, 'All right, I'm done,'" Ethington said. "Attitude is everything when you're dealing with something like this. I also have my faith, so that helped me through."
The officer said she thanked God she was alive and reflected on her mother's death two years prior. Her mother died from complications surrounding a battle with lung cancer. Ethington said her own diagnosis would not be a death sentence.
After taking a few days to process the news, she went back to work and called a meeting with her supervisors, including Galvez. "We were all in shock," Galvez said. "She's family. It hit hard knowing she was going to be going through that. Which means we were going to go through that."
Ethington also told her dad, brother and two sisters. She said she swore everyone she told to secrecy, not wanting to ruin the holiday season.
Known for not seeking attention, Ethington focused on others, even at a time when no one would have faulted her for shining light on her troubles. "I didn't want the holidays to be about me," she said.
She disclosed news of her diagnosis after Christmas, when her family was out of reach and unable to fawn over her. She chuckled as she thought back to when she told them. "They weren't too happy with me," Ethington said. She knew they would be upset she kept such an enormous secret, but felt it best to not steal the joy of the season.
Ethington underwent four biopsies in one day prior to surgery. According to WebMD, a biopsy is the removal of a sample of tissue in order to examine it more closely. "I would have to say that was one of my toughest days," Ethington said. "It was at that point when it finally hit me: This is really happening."
Despite her fears, Ethington turned down her sister's offer to accompany her to the doctor. "There are some things you just have to go through on your own, to work through it by yourself," Ethington said. "That was one of those times."
She experienced various levels of discomfort after each procedure, but still managed make it to work – dressed and ready to serve.  "I might've missed one day of work, but I doubt it," Ethington said. "I love my job."
On Feb. 11, the time came for the officer to refocus her attention on someone she was not used to serving – herself. Doctors told Ethington the cancer had progressed to stage II by the date of the surgery. She underwent a five-and-a-half hour surgery to remove the cancerous mass in her left breast and begin the removal and partial reconstruction of both breasts.
Ethington, showcasing her resilience, was home recovering after a short two-day hospital stay. However, she was out of work for five more weeks. The once self-sufficient officer was now unable to do much of anything on her own.
"I couldn't even lift my hands above my head," Ethington said. "My sister was there with me most of the time, 16 hours a day. She only left to go home to take her kids to school." Though typically self-reliant, Ethington considered it a blessing to have her family and friends step in during her time of need.
Her work family stepped up as well. "We took turns going to visit her and sent cards and flowers regularly," Galvez said. "We wanted her to know we were there for her." Meanwhile, Ethington was eager to return to duty. "There's only so much Netflix you can watch," she said.
Since her return to work, Ethington has not missed a beat. Although she will not be cleared for uniformed duty until next semester, she still finds ways to serve.
Ethington still faces a long road to recovery. In May, she will graduate with a criminology degree from Brookhaven. After graduation, she will undergo additional surgery to complete the reconstruction of her breasts.
Despite another extensive surgery, the woman of faith said she feels at peace. She said she credits her sense of calm and understanding to God and Kelley. "[Mildred's] been a rock," Ethington said. "When I first told her, she did tons of research for me to make sure that I was well-informed. The more I knew, the better."
Kelley said she hopes Ethington's story will encourage others. "For most people, the more you know, the less fear and anxiety you have," she said. "Even though we don't want to be faced with something negative, the earlier the intervention, the better."
Ethington has a similar desire when it comes to sharing her story. "If my story helps save even one person, then it was all worth it," she said.