Arbor day plants tradition
By Jake Griffin
Copy Desk Chief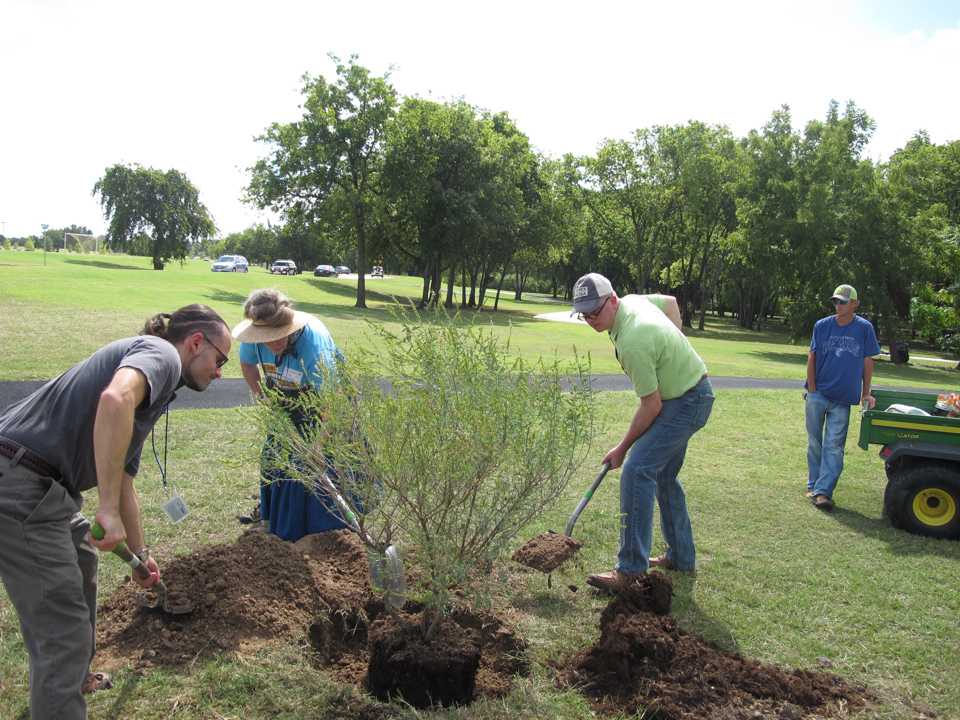 Brookhaven College held its fourth Arbor Day Celebration Oct. 6 in the Windmill Garden. Students, staff, faculty and local conservationist organizations celebrated the day by planting trees, exploring Brookhaven's wooded areas and discussing environmental issues that affect the local community.
Carrie Schweitzer, Brookhaven's director of sustainability, gathered groups such as Audubon Texas, the North Texas Master Naturalist Chapter and the Texas Honeybee Guild to join the event.
The purpose of the Arbor Day event was to draw attention to Brookhaven's urban forest, the native plant garden and the benefit of trees to the environment, Schweitzer said.
Thom Chesney, Brookhaven president, said the Campus Tree Advisory Committee recommended two trees be planted to add more native trees to the campus grounds.
"We want to keep the world clean for our future generations," Karla Ceballos, a student and member of the Green Team Coalition, said, adding that there needs to be an environmental awakening in the world.
"Plant the right species of trees, and they are going to act as sponges to clean the air and also clean the water as well," Christopher Kirkhoff, a botanist and biology adjunct, said. Kirkhoff led nature walks across the campus grounds.
"Trees are going to stabilize the soil and keep the water nice and clear," he said, adding that good management and dedication to sustainability has kept the water streams around campus clearer than he has ever seen them.
It is popular for retailers to sell exotic plants and trees for people to put in their home gardens, Olivia Osborne, an urban conservation program assistant with Audubon Texas, a group dedicated to the conservation and protection of natural resources for birds, said.
Osborne said she would like to see people choose native plants over exotic ones.
"[Exotic plants don't] benefit our native wildlife," Osborne said. "Our insects rely on our native plants for their larval stages, and everything else relies on our insects." Osborne added that switching to native plants is easy and will ultimately require less work.
Elaine White, who works with the North Texas Master Naturalist Chapter, said she would like to see people thinking outside the box and consider not only humanity, but the world and its creatures.
"We need to have more people recognize the ecosystem as a whole and how everything relates to one another … in a symbiotic relationship with each other," White said.
Susan Pollard, co-founder of the Texas Honeybee Guild, said honey bees are not indigenous to North Texas, but were brought over by colonists, just like strawberries and melons.
She said caring about bees has led to the guild working with people who care about clean water, trees and teaching children about the environment and native plants.
"We are here working together for Mother Nature and here for the gardens," Ceballos said.