Brookhaven Go-es' further
A trio of fairs assist students in everything from staying safe behind the wheel to getting a job.
By Stephon Smith
Contributing Writer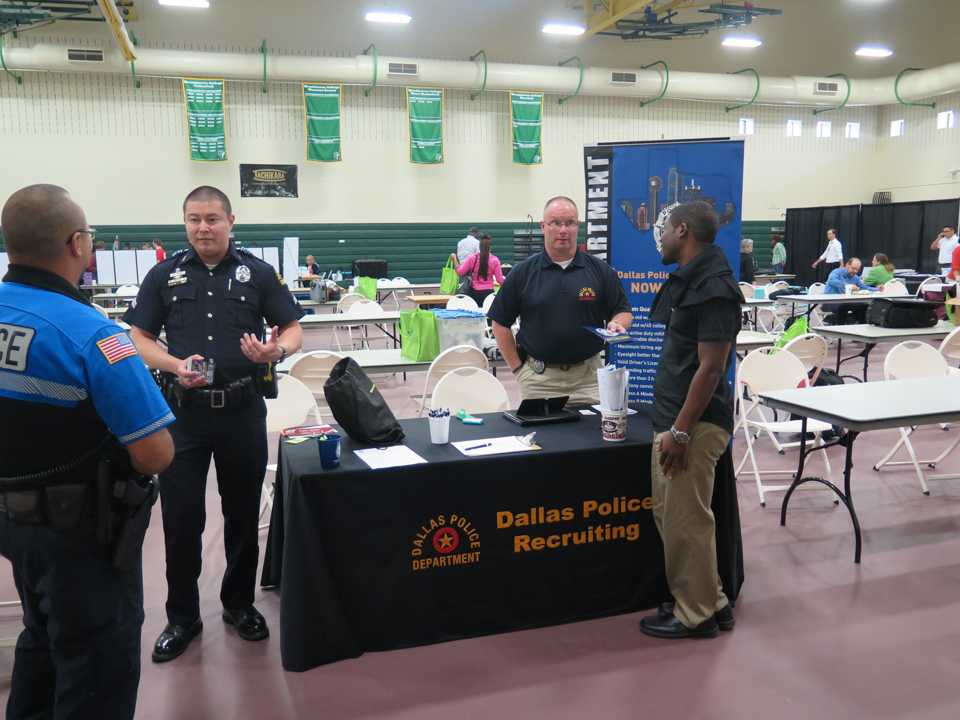 Brookhaven College, along with local organizations, teamed up to create Brookhaven Go. The event was a combination of fairs and activities the school holds each semester.
This was the first year all these events have been combined into one schoolwide event taking place over two days. They included the biannual Transfer Awareness Fair held Oct. 11. All the other events, the Career, Reality and Wellness fairs, a drunk driving simulator and vehicle identification number etching, were held Oct. 13.
Laura Ahumada, academic adviser, said the transfer fair gave students an opportunity to meet with university representatives from schools across the nation. Students received vital information from in-state schools such as Texas A&M, University of Texas at Arlington and Texas Tech University regarding admission fees, scholarships and financial aid, GPA requirements, tuition, degree options and transfer requirements.
The Reality Fair gave attendees the opportunity to learn to budget their money. Participants had the opportunity to run through scenarios in which they used the estimated income from their degrees to pay bills and other necessities.
Tiffanie Douglas, director of professional development, said the Wellness Fair was organized by employees from the Employee Success Center, Health Center, Counseling Center, Office of Student Life, the BEST Committee and Physical Education, Kinesiology and Nutrition Division. The event focused on all aspects of life that contribute to feeling well, physically and mentally. The Wellness Fair increased health awareness by providing health screenings, activities and materials and giving information and demonstrations to students as well as community members.
Students were taught prevention strategies, had common wellness misconceptions clarified and became familiar with available resources while engaging with local partners, such as Spring Valley Dental and the Elisa Project, an organization dedicated to the development of healthy children and adolescents by promoting awareness of life-threatening eating disorders, according to theelisaproject.org.
The Career Fair was organized by the Career Development Center, which gave students and community members the chance to meet with employers from different career paths.
Dystani Hollins, a student, said everyone involved, in the Career Fair staff, was extremely nice, interactive. She said employees were willing to work around her school schedule.
"We had about 10 people sign up and conducted five interviews here [during the fair]," Takoia Larry, a field marketer and canvasser with Woodbridge Home Exteriors, said.
The overall goal of the Career Fair was to inform students about local employers and the services provided by the Career Development Center, Amanda Eagan, senior career planning specialist, said.
The drunk driving simulator was set up in the T Building breezeway where Ayron Austin and Katie Austin, from UNITE, a health and wellness organization set up a virtual reality drunk driving simulator. Participants got an in-depth experience of the dangers of driving under the influence as well as texting while driving.
The Drug Take-Back is a program by the Drug Enforcement Agency to stop people from flushing their prescription drugs down their home water systems. The Farmers Branch Police Department facilitated the program so that participants could discard their expired drugs safely.
The VIN etching took place in the P4 parking lot by the FBPD. The VIN is a vehicle's unique identification code. Cars rolled through the VIN etching zone to get their car etched in multiple areas of the car.
"VIN etching is an extra preventative method for a car owner," John Harris, a detective with the Dallas Sheriff's Department, said.