Voters snap photos, may unknowingly break law
While voters shoot selfies for Facebook, lawmakers look into threat of intimidation.
By Jake Griffin
Copy Desk Chief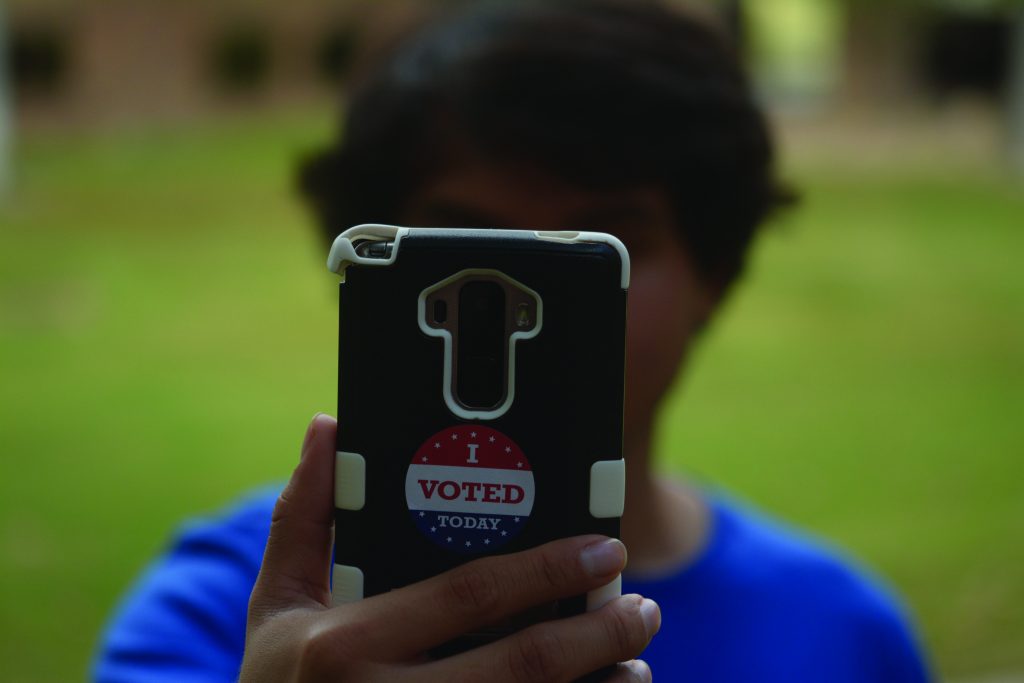 Voters may want to think twice before taking photos when they visit a polling booth this year.
The Associated Press combed through state laws that relate to the legality of taking selfies in voting booths.
In their reporting, the AP discovered that 19 states and the District of Columbia allow voter selfies, 18 states where recording of ballots is considered illegal and 13 states where the laws are either unclear or mixed, including Texas.
In Texas, the use of wireless communication devices is banned within 100 feet of a polling place, according to the state election code. However, mail-in ballots are legal for voters to photograph in Texas, according to a Vox article.
In 2014, a law was passed that banned ballot selfies in New Hampshire to maintain voter privacy and minimize the chance of voter intimidation, according to The New York Times.
The American Civil Liberties Union challenged the law, which was struck down by a federal judge in 2015, according to the ACLU website. Organizations such as the New England First Amendment Coalition, the Reporters Committee for Freedom of the Press and even Snapchat all filed statements in support of repealing the law, which is currently being appealed by the state.
Chris Handman, a general counsel for Snapchat, said the decision was a victory for freedom of speech in the digital era, according to The New York Times. Some celebrities and Brookhaven students have also said they see these ballot selfies as an expression of their own political beliefs.
"I think we should be able to publicize that we voted to encourage other people to vote," Amanda Ortiz, a student, said.
On Oct. 24, Justin Timberlake posted a selfie on Instagram while in an early polling booth in Tennessee. According to Vox, Tennessee is among the states that ban photography and video recording in polling places, though the law does not extend to mail-in ballots.
Timberlake is not facing any legal charges for the photo. However, the penalty for breaking the law could result in up to 30 days in jail, according to The Guardian.
"We're thrilled Justin can't stop the feeling when it comes to voting," Adam Ghassemi, Tennessee secretary of state spokesman, said.
Ghassemi said voters should only use cell phones at polling locations for informational purposes to help them vote. Voters would be asked by polling officials to put their phones away if they were caught in violation of the law.
"It's weird. I don't know why there would be a law about this in the first place," Ozzy Okoye, a student, said. He said sharing should not be a big deal.
Eddie Rice, a student, said taking photos in the polling booth might only matter for celebrities, but does not matter otherwise.
"Whatever they do somebody else is going to do," he said. "Your vote is your vote, so it's already done. It's not like [you're] cheating."