Vietnam veteran student 'guns' for writing career
Andrew J. Hudson, a student-turned-author, returns to Brookhaven College to display his two books based on his experiences in the military during the Vietnam War.
By Eric Lopez
Contributing Writer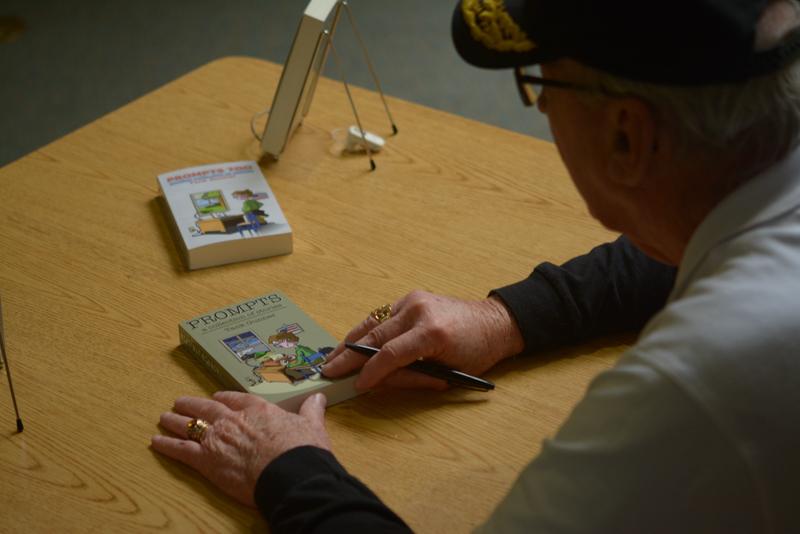 At a book signing hosted in the S Building lobby, Lt. Col. Andrew J. Hudson, better known by his pen name, Tank Gunner, signed his books "Prompts" and "Prompt Too" Nov. 17.
"There's going to be a bank robber," he said leaning back in his chair. "There's going be a pedophile. There's going be a murder. An affair, or two, or three."
After 25 years in a number of military services, Hudson said he enrolled in continuing education courses at Brookhaven College, including a creative writing course with adjunct faculty member Lee Sneath.
Hudson was a member of the Texas National Guard in 1956 and joined the Air Force in 1957 before eventually leaving in 1960.
"Then in 1961, six months later, I joined the Army as a private, and went to Officer Cadet School in 1963 and went to Vietnam in 1966," Hudson said. "Did two tours in Vietnam combat tours, ground cavalry. I was platoon leader, platoon leader in a ground cavalry troop in '66 and commanded a cavalry troop in 69. Cool career, [I] loved it."
Born in Marshall, Texas, Hudson has not only written two books, but also a play titled, "Any Name But Smith!" He also said he runs a blog featuring his war stories and wrote a satirical newspaper column called "Direct Hit" during his time in the Army.
From 1973-1974. Hudson said he column was published in 24 army and Pentagon newspapers.
Upon entering the class, Hudson had many Vietnam War stories based on reports he wrote during the war. In 2012, he said he shared the stories with the class.
"A lot of my war stories are about Vietnam," he said. "I turned and I looked at my seven classmates, and I said, 'Anybody here know about Vietnam?'"
Hudson said Sneath and a classmate recommended he start a blog to share his stories.
"I couldn't even spell blog," Hudson said with a big grin. "I had never done it before, so I asked a friend, and he directed me to Google."
But it was not so easy after that.
"I didn't know what it was," Hudson said. "I didn't know how to do it. It was a lot of trial and error."
As the semester continued, he successfully posted several stories online and shared them with his class for feedback.
"They were critical," Hudson said. "So I began rewriting the whole damn blog. It was a pain. It really was."
Despite having to restart and edit his stories after two or three semesters, he said his blog, "War Stories of an Armed Savage," started to receive positive feedback.
The blog features Hudson's stories as well as 350 photographs, graphics and map sheets from his military career. The images are separated into 25 photo albums and can be viewed along with the stories on armedsavagesix. blogspot.com.
Hudson started taking on prompts given to him by Sneath. Sneath recommended Hudson fictionalize some of his war stories in relation to the prompts. The first he fictionalized, "DEADEYE," can be read in his book "Prompts." Eventually, Hudson had enough writing prompts and stories collected to form two books.
Hudson said he is still enrolled in continuing education courses and is currently working on two books, "Palomino" and "Cookie Johnson." He is also preparing the third installment of "Prompts."
Hudson said he recommends a creative writing course for young writers and said students should read more in general.
"Don't just focus on science fiction," Hudson said. "Read the mysteries. Read the romances. Read the fantasies."
The blog "War Stories of an Armed Savage" can be found online, and the books may be purchased online as well.