Brookhaven responds to campus carry law
Senate Bill 11, which allows concealed handguns to be carried onto college campuses, will affect community colleges in August.
By Diamond Victoria
Editor-in-Chief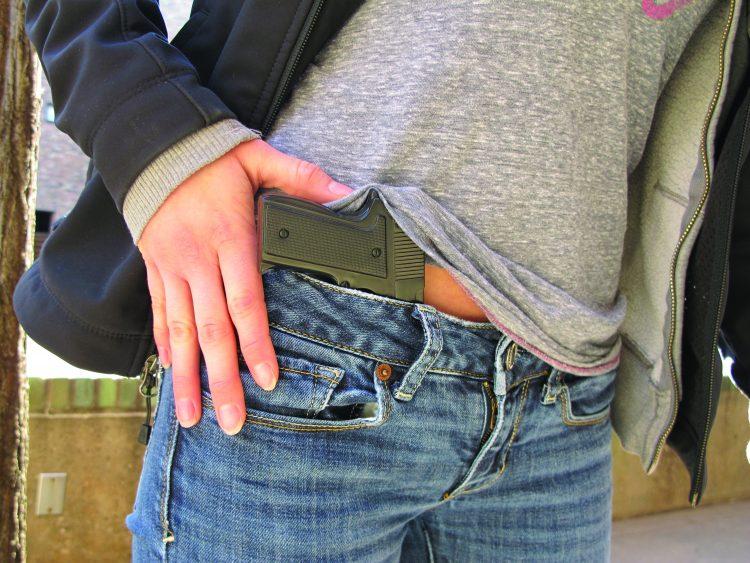 Brookhaven College staff and faculty met prior to the start of the Spring 2017 semester to discuss concerns and raise questions regarding Texas' campus carry law. The law, which allows anyone who obtains a License to Carry, or LTC, to bring a concealed handgun onto campus, takes effect for all public two-year colleges Aug. 1. Rifles and shotguns are prohibited under the law.
Rick Maxwell, dean of the Brookhaven College School of the Arts, mediated the assembly Jan. 11 in the Performance Hall. Maxwell is Brookhaven's liaison on the District Concealed Carry Taskforce which advises the chancellor on the implementation of policy regarding SB 11.
Several staff and faculty posed questions to Thom Chesney, Brookhaven president, and Capt. Mark Lopez, Brookhaven Interim Commander of Police, including concerns about how to respond to potential active shooters and what safety measures will be taken to protect areas on campus accommodating Early College High School students and the Head Start program.
Lopez said many of the questions he anticipates Brookhaveans having can likely be answered on the college's website.
During the campus carry forum, some faculty members expressed confusion about how to handle potential life-threatening situations in the classroom, questioned safety measures once the law takes effect and asked whether any training would be provided prior to August.
"I don't know about any funding [for training], but the consensus among faculty and staff is they do want it and will most likely get the training requested," Lopez said in an email to The Courier.
However, not all Brookhaveans on campus consider the new law to be a threat.
Kevin Paris, an English for speakers of other languages professor, who has an LTC, attended the session and said he considers this a win for the "good guys."
"I thank God, and I thank the law that now the good guys have a chance to bring the weapons to school," Paris said.
The good guys are those who meet all state and federal requirements necessary for a license to carry, Paris said
Some requirements include not being a convicted felon or charged with a Class A or Class B misdemeanor five years prior to the application date, according to texaschl.us.
Despite rigorous background checks and requirements, the Violence Policy Center credits 29 mass shootings in the U.S. from 2007 to 2015 to individuals with concealed carry permits.
Stephanie Colmenero, a student, said she sees pros and cons to LTC holders bringing weapons to campus, but it's hard to know how someone is really thinking. "You have those people who, yeah, they may have their license, but you don't know how they are mentally," she said.
Paris said he thinks LTC holders usually follow the law.
"A person who has a license to carry has been investigated by the FBI," Paris said. "The bad guys don't need a license. The bad guys just go somewhere in Dallas, and they buy a weapon. They break the law however they want to."
Although the law affects all of the Dallas County Community College District, each campus must create its own policies regarding campus carry. The District Concealed Carry Committee, in collaboration with Concealed Carry Committees, will work to gather input from students, staff and faculty, according to a handout given to attendees of the Jan. 11 meeting. Beginning in February, campus officials will distribute a brief survey for all students, staff and faculty to complete as part of the policy making process.
"I think there's a lack of knowledge of what the issue really is. I think we need to be better informed," Paris said.
Texas is currently one of eight states that have passed laws allowing the carrying of concealed weapons onto public college and university campuses, according to the National Conference of State Legislators.
And third-party vendors on campus, such as Subway and the bookstore, are also subject to any and all policies implemented, according to the handout.
"I think we, as educators, need to respond in a more positive way because this is the law," Paris said.