Jana Perez shares work that satirizes advertisement's ideas of women in Brookhaven College's Studio Gallery.
By Eric Lopez
Arts & Culture Editor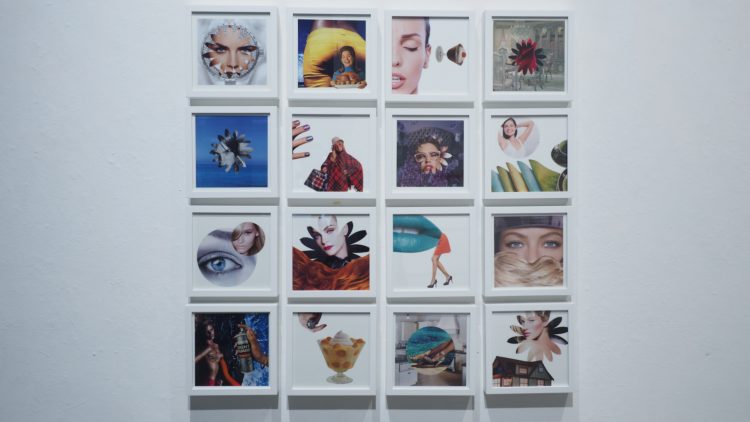 A reception was held for Jana Perez and her artwork Jan. 27 in the Studio Gallery.
Perez teaches in the graphic design and visual communications area in the art department of Texas Woman's University. She also earned her Master of Fine Arts degree from TWU. This is her third solo show. Her previous exhibitions included those at Woman Made Gallery in Chicago, Ill. and Tarleton State University.
The exhibition features collage works that use multiple visual elements, such as pattern, shape and color, as well as incorporating digital images. Perez said a combination of processes were used in creating the art for the exhibition; collage, solvent transfer with wintergreen oil, color pencil and laser cutting. She said each piece tries to send a message and give the viewer thought-provoking commentary on women in society.
"This work satirizes advertised ideas about women, defining a personal reaction to media manipulation and to ideas of restraint and emancipation," Perez said in an email to The Courier.
David Newman, gallery director, is responsible for all exhibitions with the art department's two galleries, the Forum Gallery and Studio Gallery.
"The selection of exhibitions is predicated on showing professional work that is useful for supporting instruction within the curriculum in the art department," Newman said. "In the case of her work, specifically digital classes, two-dimensional design, drawing, painting, photography and printmaking."
Perez has several other projects she is working on. "I am currently collaborating on related work with Dr. Matt Henley, assistant professor of dance a Texas Woman's University," Perez said. "We are working on video and dance work related to archetypes in media and a feminist theory of the hero's journey by Carol S. Pearson."
Pearson is an author who wrote "The Hero Within," the book Perez's upcoming work is based on.
"I also collaborate with fellow photographer and artist, Angilee Wilkerson, in a series called 'Perform La Femme'. We have an upcoming show from March 11 – April 11 at The Bath House Cultural Center," she said.
Perez's work is on display in the Studio Gallery until Feb.3.