Paul Quinn president transforms education
By Mira Scott
Contributing Writer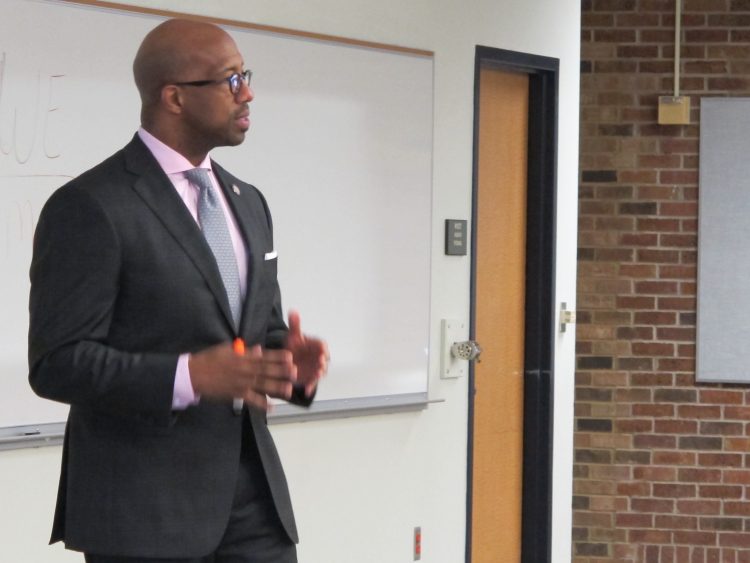 Michael Sorrell, president of Paul Quinn College, turned what was once a struggling, historically black college in Dallas with a 1 percent graduation rate into the first urban work college in the country.
Sorrell's visit to Brookhaven College Feb. 1 kicked off the college's Black History Month events. He spoke to students, staff and faculty about the crisis in black education and how he turned Paul Quinn around. As president of the college for 10 years, he said the time has allowed him to redefine the campus and its values to benefit its student body.
"The crisis is not in the education, but in our lives," Sorrell said. "It is not just in the classroom, but also at home. We are asking our schools to solve everything for our students, and our teachers are now becoming our social workers."
Sorrell told attendees they are their own entrepreneurs – of thought and action. He said students must tell their stories and not give them away to anyone else.
He transformed the education crisis in Paul Quinn by revamping the admissions requirements process. Changes included requiring a 2.5 GPA, a 500-word essay, a letter of recommendation and head shots.
Sorrell also implemented a business casual dress code for all students.
He converted the football field to a student-run agricultural farm for the campus's cafeteria where students can work to pay tuition, according to a PBS Spotlight Education report. The farm produces 20,000 pounds of organic produce a year, which ends up in local restaurants and AT&T Stadium.
"I think this has saved our school," Sorrell said. "It saved it because it changed the narrative of the institution."
Another change requires students to work 150 hours per semester to help pay for their tuition.
"Our students learn what it means to be effective and to have job skills and work skills," Sorrell said.
Sorrell's work has also benefited students in more direct ways. He raised $5,000 in 10 days on behalf of the 10 percent of students who had trouble with their eyesight.
With these efforts, Sorrell increased the enrollment rate by 200 percent since 2010.
"The college is for anyone and everyone to feel welcomed, valued and able to excel in education," Sorrell said.
Sorrell's many accomplishments and awards include the 2016 Historically Black Colleges and Universities Male President of the Year award, according to the Paul Quinn website. He was recently named the third most influential HBCU President in America, and Washington Monthly Magazine identified him as one of America's 10 Most Innovative College Presidents.