Students learn about relationships
By Mira Scott
Contributing Writer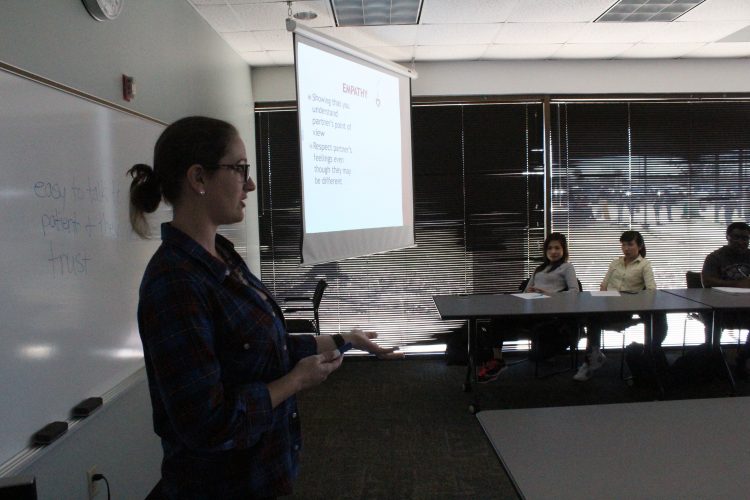 Megan Coit, a Brookhaven College licensed clinical social worker, led a SkillsShop Feb. 15 on healthy and unhealthy relationships. She said it takes an average of seven times for a victim of domestic abuse to permanently leave a relationship.
Coit said qualities such as love, happiness, trust, respect, honesty and supportiveness in a healthy relationship come from 10 key components. "A relationship is supposed to bring you up, not bring you down," she said.
The signs of unhealthy relationships include physical violence in an argument, blaming of others for negative feelings, threats or intimidation, isolation, controlling behavior, verbal or emotional abuse and having a partner play mind games, Coit said.
Coit described an unhealthy relationship involving her younger sister. She said the early stages of the relationship seemed healthy, but eventually her sister was belittled and constantly pressed to explain where she was and who she was with. Coit said that was when she advised her sister to leave the relationship because the man was manipulative, jealous and controlling.
Often, the onset of an abusive relationship includes tension building, followed by an incident exploding through bursts of anger, leading to reconciliation before the incident is ultimately forgotten about, Coit said.
Coit established a set of questions for attendees to determine whether they are in unhealthy relationships, including if their partner throws or breaks things when angry or ridicules or belittles them. She also prompted attendees to recall a time when they may have been forced to explain their whereabouts or felt relief once their partner left a room.
Coit said those affected by unhealthy relationships can contact Metrocrest, a company that helps those in need of financial assistance due to domestic violence, or visit her in the Counseling Center in Room S136.