STEM Fair enlightens participants
By John McClanahan
Contributing Writer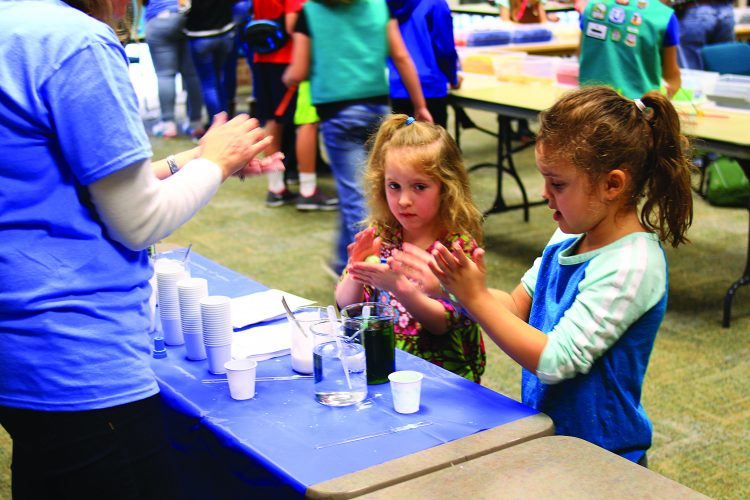 The scientific community gathered in Brookhaven College's H Building for the 2017 STEM Fair, which showcased the exploration of science, technology, engineering and mathematics Feb. 18. The fair was crowded with people of all ages interacting with the many booths and exhibits, including meteorites, rocks and minerals, slime-making, 3-D printing, a fire-rescue dollhouse and drone simulation.
"I think the turnout this year was really excellent," Kathryn Wetzel, dean of Brookhaven's Math and Science Division and STEM Fair organizer, said.
The fair gave the public a chance to explore a wide variety of scientific fields using interactive hands-on learning, displays and lectures to highlight the importance of STEM fields. The event consisted of many interactive activities geared toward inspiring future scientists by giving them early hands-on experience.
The fair featured a K'nex bridge building contest. Participants got a chance to put their engineering skills to the test as they watched their K'nex bridges hold up iron free-weights. Some children at the fair also demonstrated their knowledge of physics with egg crash cars. The crash cars were created with recycled cardboard and newspaper and sent eggs sliding down a yolk-splattered ramp.
Another science classic featured at the fair was a booth for making slime. Claire Bambrough, a chemistry professor, demonstrated basic chemical reactions using a simple slime recipe. Attendees learned about polymers by stirring solutions together to create their own slime.
"For the little kids, it is really just the fun of mixing two things together and seeing it turn into green goo," Bambrough said.
Nona Batiste, Monnig Meteroite Gallery assistant and educator at Texas Christian University, displayed heavy 4.5-billion-year-old meteorite samples. Batiste taught a Girl Scout how meteorites impact the Earth by telling her how to perform an experiment using astrophysics.
Other activities included the Bricks & Minifigs Lego station, which gave attendees an opportunity to map out a design using blueprints and build marble mazes with Lego bricks. Jason Kilma of Bricks & Minifigs said Lego construction is a great opportunity to teach young builders the nuances of engineering at an early age.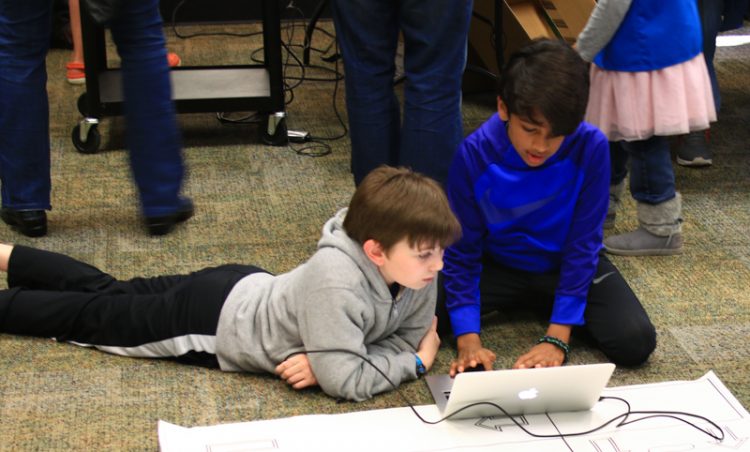 The National Space Society of North Texas taught astronomers about the wonders beyond Earth. Lt. Col. Cynthia Whisennand demonstrated aerodynamics as the aerospace expert launched a rocket balloon that zipped and spun over fairgoers.
The STEM Fair also showcased a series of lectures discussing geology, the history of forensic science and the future of space voyage. Students, staff, faculty and visitors gathered to hear Ken Ruffin, director of the National Space Society of North Texas, speak of future possibilities for space habitation.
"We consider space development the highest application of STEM," Ruffin said.
Harrell Gill-King, University of Texas professor and director of the Institute of Forensic Anthropology, gave a lecture on the advancement of forensic science. He said events like the STEM Fair are crucial for maintaining childrens' interest and curiosity in math and science.
The Society of Petroleum Engineers helped sponsor the 2017 STEM Fair and provided 400 free build-it-yourself birdhouses and a geospatial experiment display. Samuel Larkin, a director of the Society of Petroleum Engineers said, "Part of the mission of the Society of Petroleum Engineers is to interact with the community and help people understand what the science industry is about."