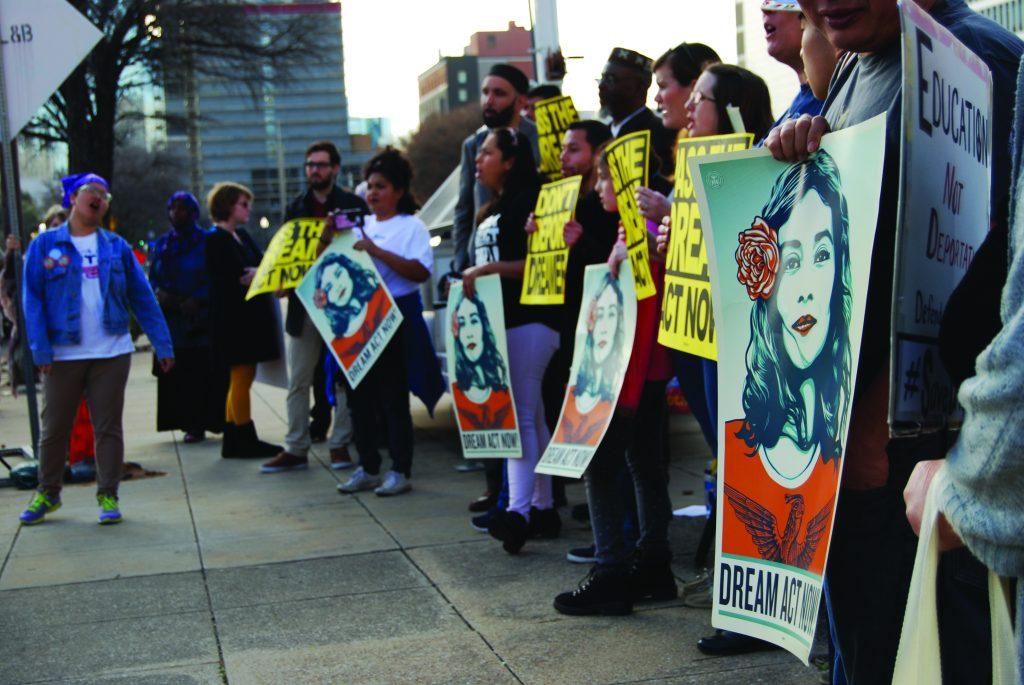 By Victoria Valdez
Sports Editor
Protesters chanted slogans in support of the DREAM Act and held signs reading "Don't deport DREAMERS" and "Pass the DREAM Act now." The crowd of approximately 30 gathered Feb. 17 outside the Omni Dallas Hotel to make their voices heard. Inside, Vice President Mike Pence spoke at the 2018 Dallas County Republican Party Reagan Day Dinner.
The protest was organized by members of Mi Familia Vota, a civic engagement organization that advocates on social and economic issues that impact the Latino community.
The protesters demanded Congress pass a clean version of Development, Relief, and Education for Alien Minors Act, also known as the DREAM Act, which would give undocumented youth the opportunity to pursue higher education and be eligible for work authorization in the U.S.
The goal of the protest was to get the attention of Republican officials who attended the dinner, inform citizens about the proposed legislation and encourage citizens to vote.
"We are gathered here with our Dreamers, undocumented youth, allies and faith leaders to unite and uplift the voice of the American people," Liz Magallanes, Dallas-Fort Worth coordinator at Mi Famila Vota, said. "We want to make sure that our elected officials, both local and national, understand that the pressure is going to keep building for a clean DREAM Act."
Magallanes said the protest is a continued response after the 2012 Deferred Action for Childhood Arrivals program was terminated by President Donald Trump's administration. Termination of the program was announced Oct. 5 with a six-month grace period that allowed individuals whose benefits expired within the window to renew.
Magallanes said, "If Congress continues to be negligent, we will continue these protests. We are your neighbors, we are your peers at school and work."
According to CNN, on Feb. 26 the Supreme Court said it would stay out of the DACA dispute for now. The move allowed current DACA recipients to still be able to renew their status.
The court's action is not a ruling on the merits of DACA or Trump's effort to end it, according to CNN. However, it lessened the pressure on Congress to act on a permanent solution to its roughly 700,000 participants.
"It makes it difficult for people who've grown up here to be able to participate fully and freely in our community. It's not right and it breaks my heart," Beth Weller, a protester whose daughter attended Brookhaven College, said: "There's a lot of Republican support for a DREAM Act and for immigration reform. It's not a divisive issue and it should pass."
Magallanes said Mi Familla Vota members want to make sure that voters are well informed on immigration issues and take action. "We understand that progress takes work, but it's unacceptable for [progress] to have taken this long and for Congress to be so negligent by not taking action," Magallanes said. "I can't vote because I'm a DACA recipient, but I have family members and friends who understand my struggle and their voice will be my voice at the polls."
Maria Robles, a protester, said she has been trying to obtain her citizenship since 1987. Robles said she wants people to understand the path to citizenship is not easy. "I've been in five different lines, I've been following every process that's available, I've been paying fees and taxes and I keep waiting to be approved."
Robles said if more citizens talked to undocumented people, they would realize they are not different than them. "We aren't draining the economy, we are contributing," she said. "This is my country … I may not have papers, but I've been here since I was 4 [and] my heart is here."