Students to blast off
By Aaron Ortega
Opinion Editor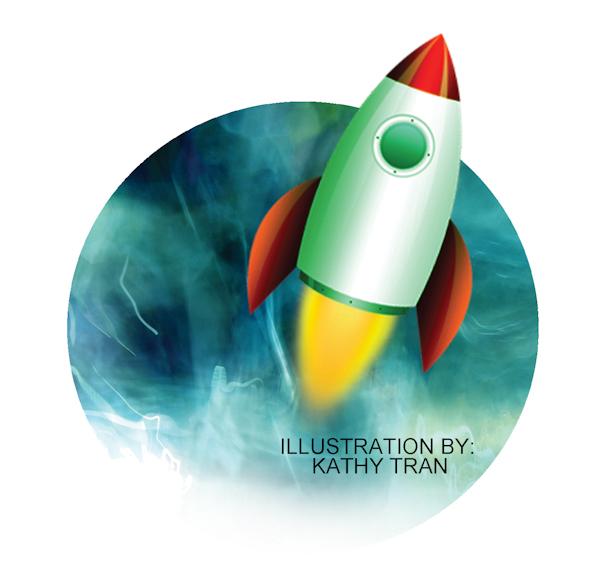 As a child, former Brookhaven College student Rebecca Jimenez wanted to fly to the moon. Her attraction to heavenly objects and various galactic intricacies not only piqued her interest, but she also had a curiosity about mechanical repair and construction. It seemed almost natural the childhood attraction to this unique combination would lead Jimenez to apply for the Community College Aerospace Scholars program.
In April, approximately 46 Dallas County Community College District students will traverse the facilities of the NASA Johnson Space Center in Houston. For three days, students will experience nearly unlimited access to areas of the center most earth-bound civilians will never set foot in. They will gain first-hand experience in activities and engineering projects. Jimenez said, "When you walk into the facilities of NASA, you feel just like what Neil Armstrong said on the moon: 'This is one small step for man, one giant leap for mankind.'"
Prior to arriving at JSC, students are required to complete online assignments. By Feb. 25, students were chosen on a first-come, first-served basis, depending on assignment completion and the necessary paperwork. Jimenez did her research before leaving for JSC, but research could not prepare her for the unexpected spectacle of the NASA facility. "When arriving at the space center, you realize that not many people get the opportunity to see what you are getting access to," Jimenez said. "The facility is massive, and you get a grand tour of things your mind could not even create."
The diverse activities students can expect to participate in at the space center can only be described as unexpected. Perla Molina, director of outreach and recruitment at DCCCD, attended tours for seven years, and said every year she has attended, her experience varied. Molina said one year Buzz Aldrin was a guest speaker.
Aside from astronaut debriefings and presentations, students can expect to participate in hands-on projects. In a district-wide email, Molina also described a previous year when students researched and designed a Mars rover. Students divided into groups and constructed plans for the robotic mobile unit.
Diego Rodriguez, NASA education specialist, said NASA has updated the program by integrating more 21st century skills. Some updates include rovers using new Lego Mindstorm technologies. "We have also designed new rover courses with more challenges and maneuvers," Rodriguez said.
Jimenez explained that she applied for the program with an intention of exploring the dynamics of aerospace engineering. "I was expecting the training scene from 'Armageddon' – but was surprised to learn that it was a competition among teams," Jimenez said.
Ann Hatch, district director of media relations at DCCCD, said the program allows students a glimpse into STEM (science, technology, engineering and mathematics) careers, and how they apply in a practical way to their specific interests. "I'm personally a big fan of space travel and space camps and those kinds of educational opportunities that get students to dream a little bit and to think about new careers," Hatch said. "If I were back in college, I'd go."
Jimenez, currently in her last semester at University of Texas at Dallas, advised future student participants to have fun with the program and ask as many questions as possible. Jimenez also said students should not take the golden opportunity they are given for granted and should immerse themselves in the program.
Rodriguez said students will benefit the most from working together: "I think the most important activities that the students work on are the collaboration that they have when they work together to build and design their rovers. They are experiencing what it is like to be an engineer."
The DCCCD's participation in the Aerospace Scholars program extends back 10 years. Since the program's inception, student participation and interest has accumulated. With this growing interest among the DCCCD community, NASA has accommodated the increase in interested students. Reaching out to Molina, NASA coordinators offered a DCCCD-specific program to accommodate applicants.
Hatch said prior to this, Brookhaven and other DCCCD colleges attended sessions offered to other schools from various areas around Texas. Hatch said, "Because we have had increased interest, NASA offers us a group now instead of folding us with the rest of the groups across Texas."
The three-day excursion at JSC is scheduled for April 17-19. The application deadline was Feb. 8. The requirements for eligible students include enrollment as a credit student with an interest in computer science, mathematics, science or engineering, as well as 12 to 15 hours a week of online coursework prior to the trip. Approximately 50 students from DCCCD applied for the program, including nine Brookhaven students.